You may have seen me tweet and Facebook about the Cultivate Festival that is coming to Denver on August 17th. In honor of the festival, I am going to be highlighting a couple amazing folks who are local artisans/farmers. One of my favorites is Patrick Creager who founded Backyard Soda Co.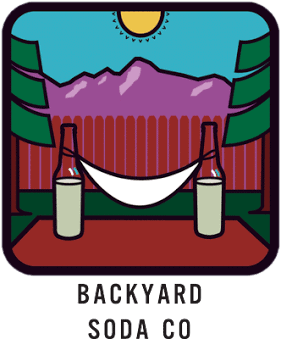 Backyard Soda Co makes the most amazing syrups that can be used in cocktails, mocktails, and even cooking. They are all made with incredibly fresh ingredients and Patrick usually has a couple new flavors up his sleeve as the seasons change and different ingredients become available. I was lucky enough to snag some time with Patrick to talk all about Backyard Soda Co and the Cultivate Festival.
As Patrick told me, it all started back when he was working at Olivéa restaurant running the bar program and coming up with cocktail menus. While Patrick was creating gorgeous cocktails infused with fresh herbs, spices, and fruits, his wife (who was pregnant at the time) really wanted to try them out. This is what initially inspired him to start making simple syrups to be used both in cocktails and non-alcoholic drinks. I'm sure you won't be surprised to learn that his simple syrups and the drinks he created with them caught on quickly, more quickly than even he could anticipate. Having always worked in restaurants after high school and being, as he calls it, a "lifer" in the food service industry, Patrick decided that it was time to pursue his dream of having his own modern soda shop.
So Patrick started with a food and beverage cart called Follow That Cart (catchy, right?!) and then started bottling his syrups. From there the decision was made to go straight to beverages a little over a year ago, and so Backyard Soda Co was born. Now Backyard Soda Co products are selling (like crazy I imagine!) on store shelves around Denver and are featured at events like the Cultivate Festival.
The Cultivate Festival was actually the first event Backyard Soda Co attended so returning this year is going to be that much sweeter I imagine!
To me, the real beauty of Backyard Soda Co is the use of seasonal ingredients. Though Patrick has staple flavors on shelves around town(which are some of his favorites), from season to season he creates new flavors. Whether it is jalapeños with cucumbers and strawberries in the summer, apples and other orchard fruits in the fall, or citrus fruits in the winter, the ingredients in the specialty syrups are inspired by what is in season.
Another reason Backyard Soda Co is truly special (and if you haven't checked out their products yet, you should!) is not only the commitment to using seasonal ingredients, but also the attention paid to the ingredients themselves. As Patrick told me, he feels as though people have become so much more aware on a national level of what we are putting in our bodies and where food is sourced from. Therefore we are seeing this dedication to locally sourced ingredients and an increase in appreciate for those ingredients. There are so many dangers associated with not knowing where the food we eat is coming from and really, as Patrick commented, it's almost passé not to participate in the local and seasonal movement.
And I couldn't agree more! How great is it to go to a local restaurant and know where the food they are using came from, how the crops were raised, etc? To me, it makes dining out that much more special.
So where will Backyard Soda Co go from here?
Patrick says he would like to continue to see their products on shelves along the front range, but the ultimate goal is to open his own restaurant – a fun place for people to go with their families, make great memories, and enjoy specialty cocktails and non-alcoholic drinks all in one location. It would be a place that everyone can enjoy from moms and dads, to grandparents and even small children.
Sounds like a place I would go in a heartbeat!
So for those of you in Denver, plan on heading over to City Park on August 17th for some amazing food and drink and a chance to see Backyard Soda Co in action!