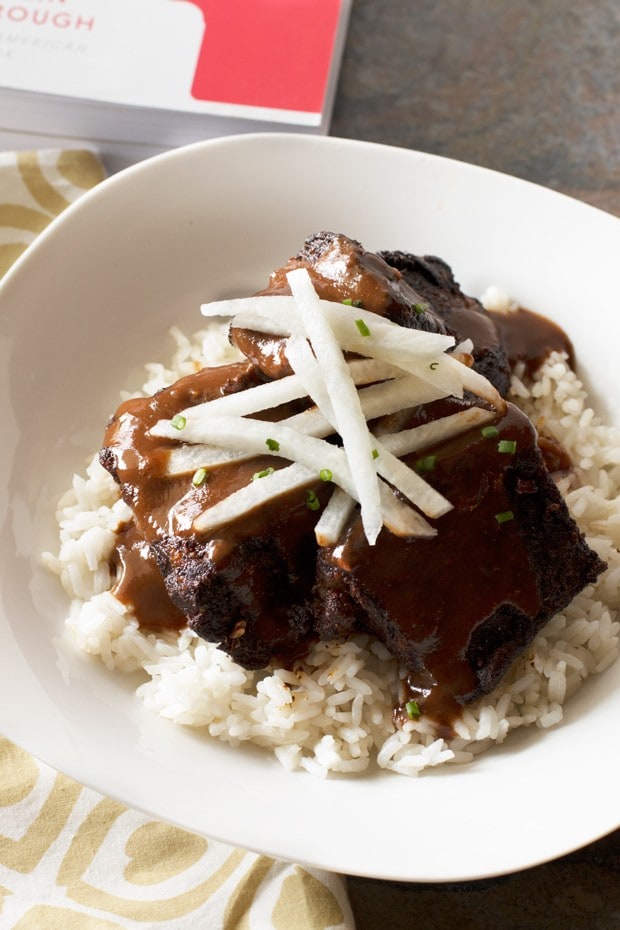 I've been talking about getting a pressure cooker ever since I started watching Iron Chef (they use one in every episode!), so getting one 7 years later has been pretty exciting! Of course, in reality, when I broke it out, we had no idea where to start. Thankfully The Great Big Pressure Cooker Book arrived swiftly thereafter!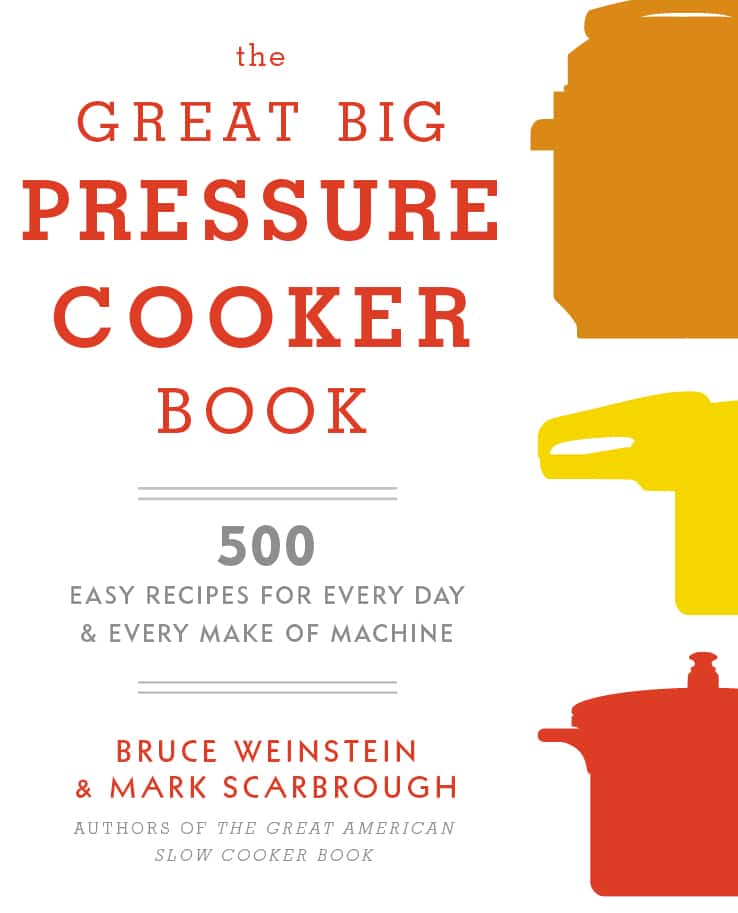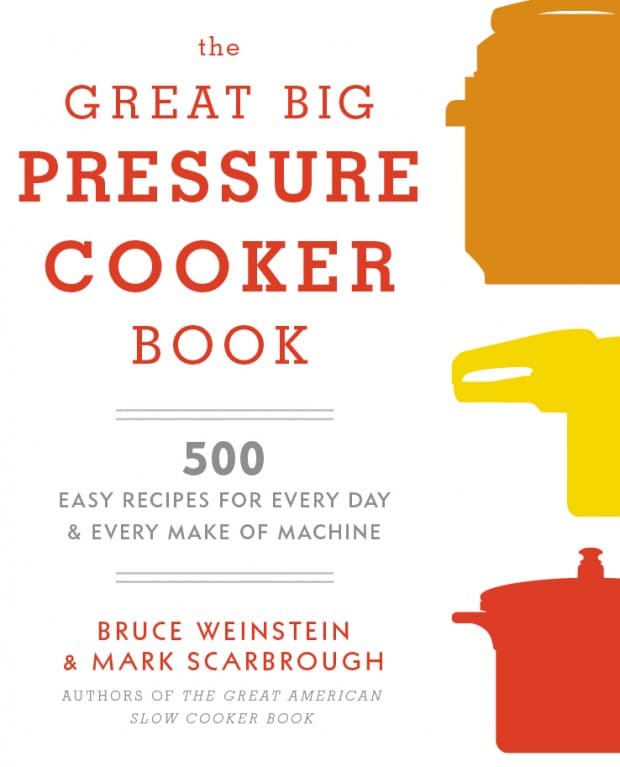 The biggest selling point for me is that this book targets all levels of cooks, whether you are a novice or simply looking for some creative recipes. The entire book makes pressure cookers approachable for anyone, as well as providing instructions for stovetop and electric pressure cookers, proving you don't have to be an Iron Chef to use one! It even includes basic troubleshooting so you can figure out exactly why your food is scorching on the bottom or everything isn't evenly cooked.
These are the twice-cooked crispy short ribs which were SO melt-in-your-mouth tasty that the time it took to make it didn't even matter. Of course, this is one of the recipes that requires more effort, but you could easily start it one night and finish cooking the following night for dinner. The ribs have this smoky flavor that reminds me of barbecue, but a little more sophisticated.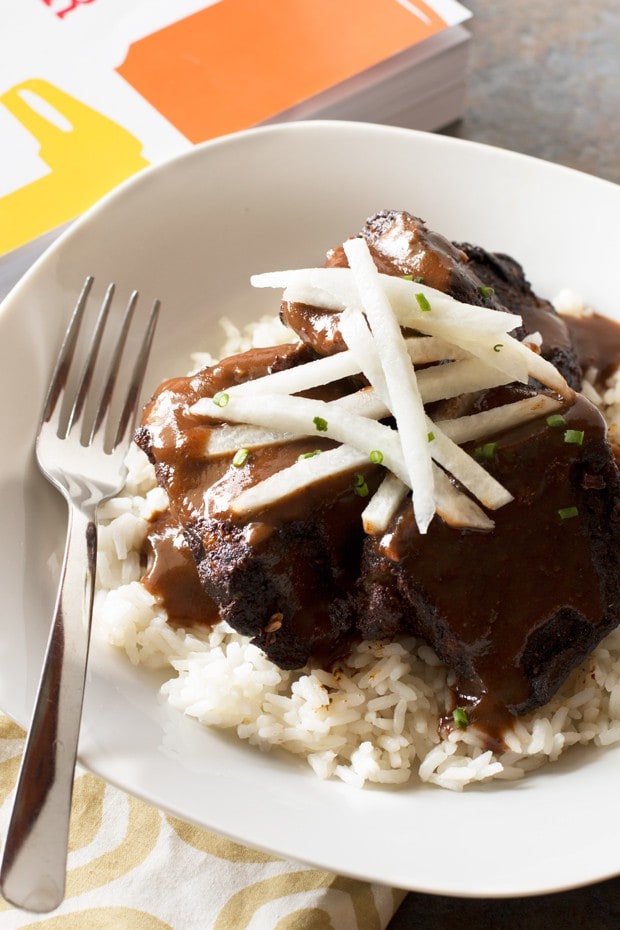 We also tried a few other recipes, including the enchilada chicken – a simple, quick and extremely flavorful dish that has become a weeknight favorite for me. Serve it with a couple tortillas and cheese and you have dinner in 20 minutes with barely any effort.
With such an immense amount of recipes in one book, you would assume the recipes would be pretty similar, but I am very pleased with the variety. I mean, who knew you could make a cheesecake in a pressure cooker? I definitely did not! These recipes are easy to understand and incorporate only real food ingredients, making it effortless to incorporate into everyday cooking. I personally look for quick healthy meals on weeknights and this makes it extremely easy to accomplish. Plus I usually end up with leftovers, perfect for lunch the following day!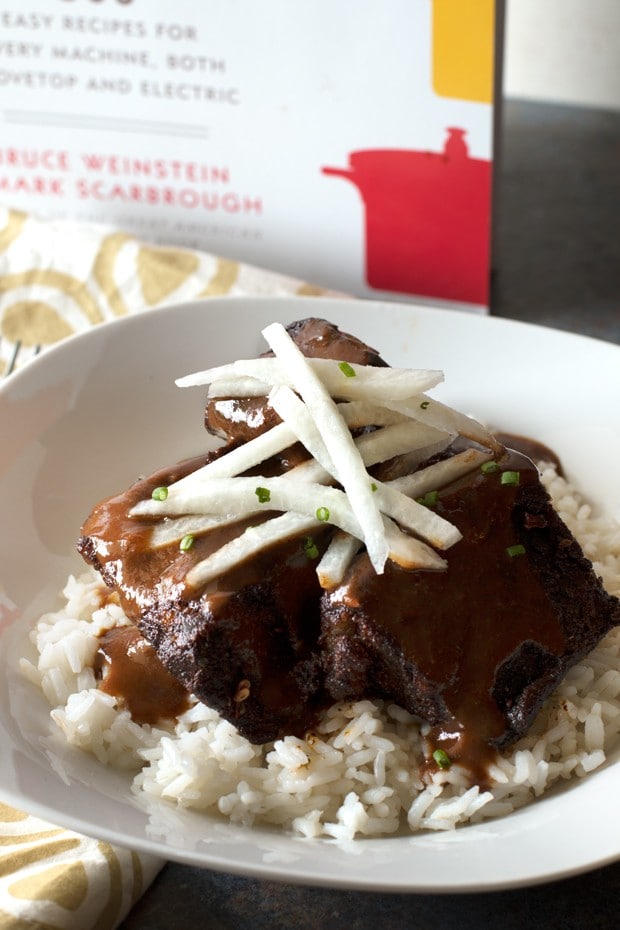 If you have a pressure cooker or are planning to add one to your kitchen soon, this book is an ideal companion.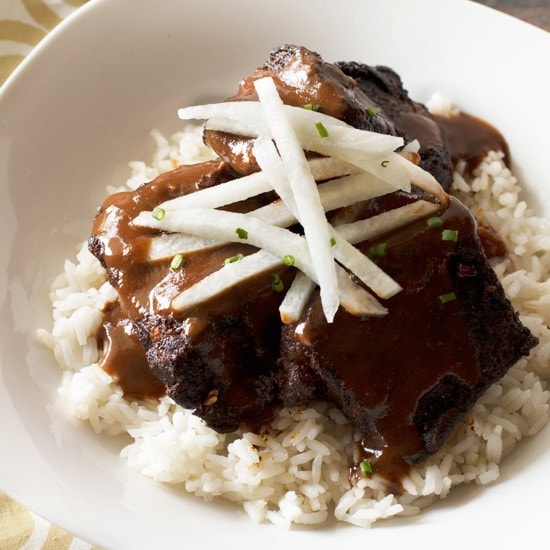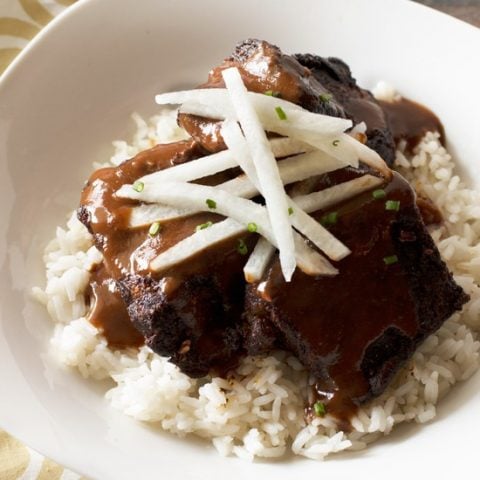 Twice-Cooked Crispy Short Ribs
Cook Time:
1 hour
45 minutes
EFFORT: A LOT • PRESSURE: HIGH • TIME UNDER PRESSURE: 35 OR 50 MINUTES • RELEASE: NATURAL
Ingredients
1 Tbsp sweet paprika
1 Tbsp cocoa powder, preferably natural
2 tsp dried oregano
1 tsp red pepper flakes
1 tsp ground cumin
1 tsp onion powder
1/2 tsp ground coriander
1/2 tsp garlic powder
1/2 tsp salt
3 1/2 lbs boneless beef short ribs, trimmed
1 Tbsp sugar
1 Tbsp balsamic vinegar
2 Tbsp olive oil
Instructions
Mix the paprika, cocoa powder, oregano, red pepper flakes, cumin, onion powder, coriander, garlic powder, and salt in a 6-quart stovetop or electric pressure cooker. Add the beef and stir well until the spice mixture evenly coats the beef. Add water to the cooker to come halfway up the meat.
Lock the lid onto the pot.

STOVETOP: Set the pot over high heat and bring the pressure in the pot to high (15 psi). Once this pressure has been reached, reduce the heat as much as possible while maintaining this pressure. Cook for 35 minutes.
ELECTRIC: Set the machine to cook at high pressure (9–11 psi). Set the machine's timer to cook at high pressure for 50 minutes.

Reduce the pressure.

STOVETOP: Set the pot off the heat and let its pressure return to normal naturally, about 20 minutes.
ELECTRIC: Turn off the machine or unplug it, so it doesn't switch to a keep-warm setting. Allow its pressure to fall back to normal naturally, 20 to 25 minutes.

Unlock and open the lid. Transfer the meat to a platter; pour the sauce and juices in the cooker into a small bowl. Refrigerate the meat and sauce separately for at least 2 hours or up to 2 days, covering when cool.
Take the beef out of the fridge for 20 minutes. Skim any congealed fat from the sauce; pour and scrape the skimmed sauce into a small saucepan. Stir in the sugar and vinegar; bring to a boil over high heat, stirring occasionally. Boil until the sauce thickens, about 10 minutes, stirring once in a while.
Heat the oil in a large skillet set over medium heat. Add the short ribs and fry until crisp, turning occasionally, about 3 minutes per side, maybe less as the skillet continues to heat up. Transfer to serving plates or a platter and pour the sauce over the beef.
Serve It Up! Shred a peeled jicama through the large holes of a box grater. Toss with a little lime juice and a pinch of salt. Place a pile of the salad on each short rib after you've sauced them.