Mmmmmmmm chocolate…..
Nothing really soothes my soul like chocolate does. There's something about delving into a bowl of chocolate ice cream, or devouring a piece of gourmet dark chocolate that makes me feel completely at ease.
What better way to kick off a new month (especially one with one of my favorite holidays)? It will help you ease out of your sugar coma from Halloween candy into the turkey and sugar coma you will encounter as soon as Thanksgiving rolled around.
I know, I am a genius.
I never really thought about making a sweet risotto until I happened upon a recipe from an old Williams Sonoma cookbook. Let me tell you right now, you need to throw out all the negative connections you are making in your head to rice pudding. This is so much better than rice pudding.
Primarily because it has CHOCOLATE.
I know I know, some of you out there don't like chocolate. Just know that I am not talking to you today. You just don't understand. I am working on forgiving you for that… 😉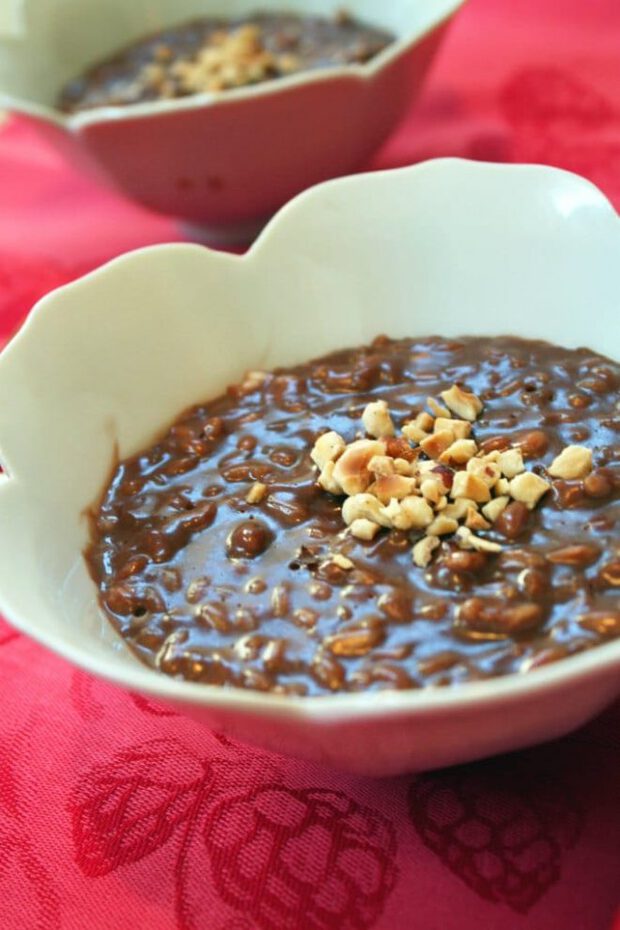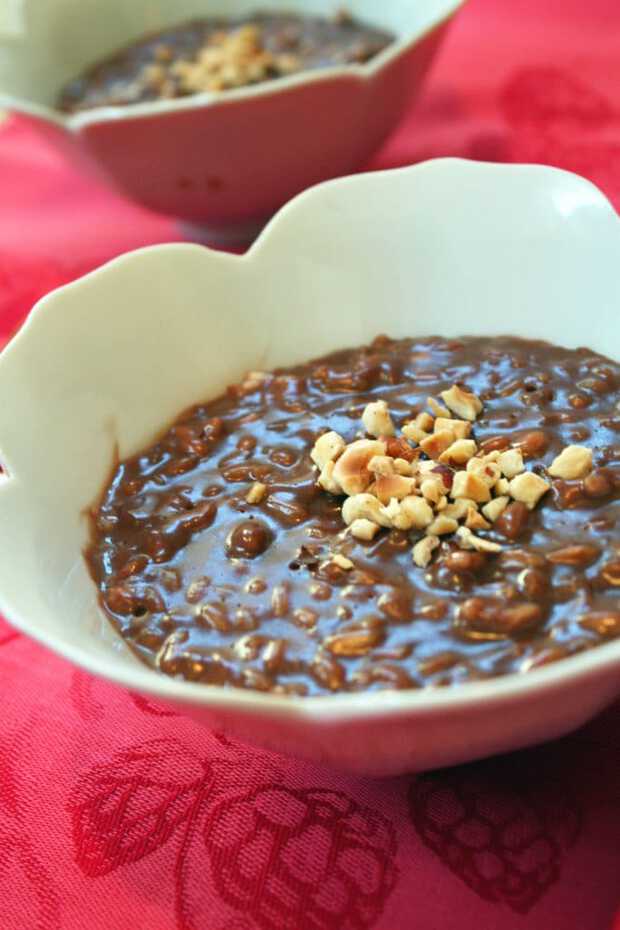 Chocolate Risotto
Similar to a chocolate rice pudding, this dessert risotto is a great way to end a meal.
Ingredients
2 oz bittersweet chocolate, coarsely chopped
1 oz milk chocolate, coarsely chopped
1/2 cup heavy cream
3 cups whole milk
1 cup Arborio rice
1/3 cup sugar
2 Tbsp unsalted butter
1/2 cup hazelnuts, chopped
Instructions
In the top pan of a double boiler over simmering water, combine the chocolate and cream and stir until the chocolate is melted. Set aside and keep warm.
In a saucepan, combine the milk, rice, sugar, and butter. Place over low heat and cook, stirring frequently, until the rice is tender, 25-30 minutes.
Remove from the heat and stir in the melted chocolate. Transfer to a serving dish, sprinkle with the hazelnuts and serve.