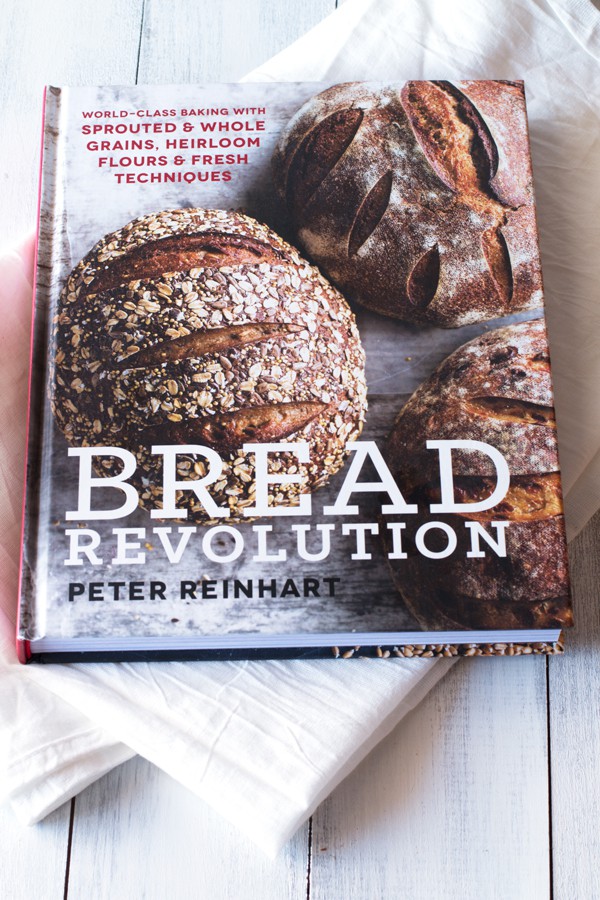 Harvest bread reminds me of home. I might not have grown up with freshly baked loaves of bread made from sprouted grain flour, but in the home of my dreams, buried somewhere deep in Italy or France, harvest bread would be a weekly (ok daily) staple.
Our relationship with bread is so… Real. It's deep and strong and impossible to deny.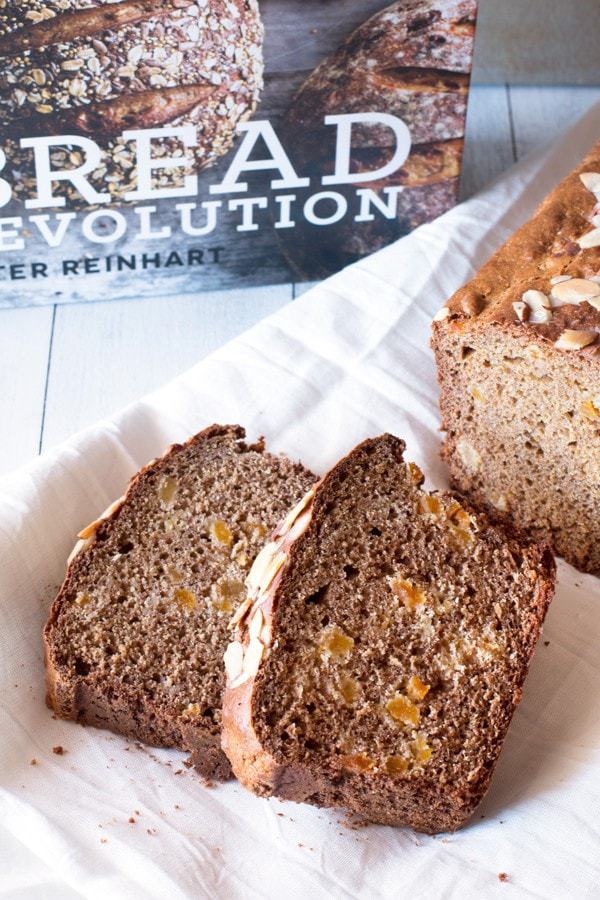 Reading Bread Revolution, by Peter Reinhart was, simply put, pure joy to me. The true value in the book in my opinion, is the techniques he shares. Making bread has always been therapeutic for me and after reading this book, I feel like I have experienced a whole new level of enlightenment. I was completely absorbed as I turned each page, reading through stories of homemade bread and how to knead and shape it. If you've ever made you're own bread, you know the feeling that comes with kneading and forming the dough. It's the ultimate stress reliever and this book melted my stress away without me touching even a speck of whole grain flour.
I have tried a few recipes from the book and each one has been met with groans of happiness and a kitchen filled with the smell of flour and yeast. I was especially intrigued with the secret to a sourdough primer, something I have only read about and wished would be shared in detail. This book fulfilled that wish with incredible detail, causing my reservations about trying to create my own mother starter disappear.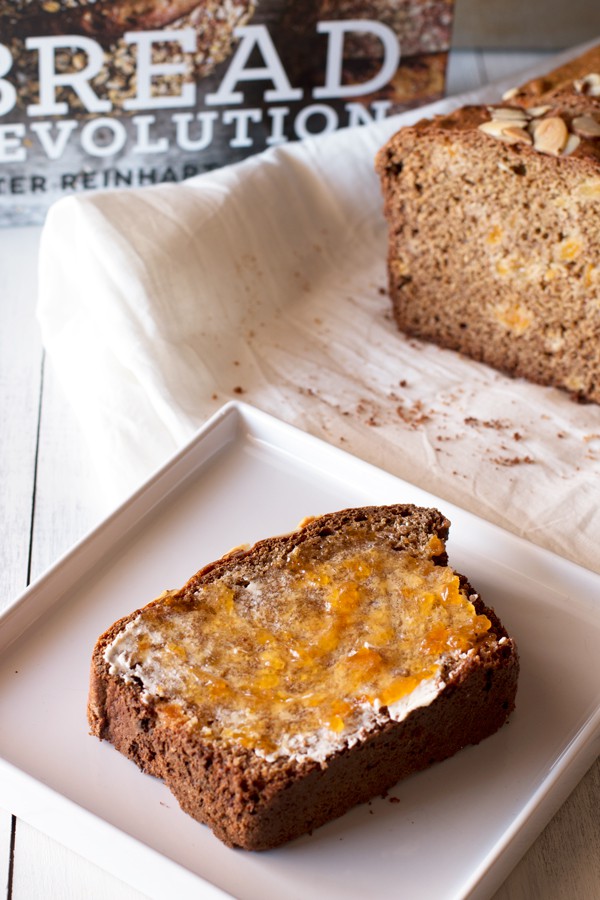 The Bread Revolution cookbook is definitely for the baker who wants to learn more about perfecting whole grain breads and not for the beginning who has never made a dough in his or her life. It really ups the ante to challenge the way you currently think about bread, grains, and the art and science behind baking. After reading this book, I feel that the way I bake bread will be forever changed.
Of course, I couldn't leave you with a simple book review and no recipe to try out! One of my favorite recipes from the book was the Sprouted Wheat or Spelt Quick Bread (which comes with several other variations than the one I quote below). I used spelt flour in the recipe and what resulted was a dense, utterly satisfying bread with just the right amount of sweetness. Naturally I smothered it in Irish butter and apricot jam, just to make sure it was that much more indulgent…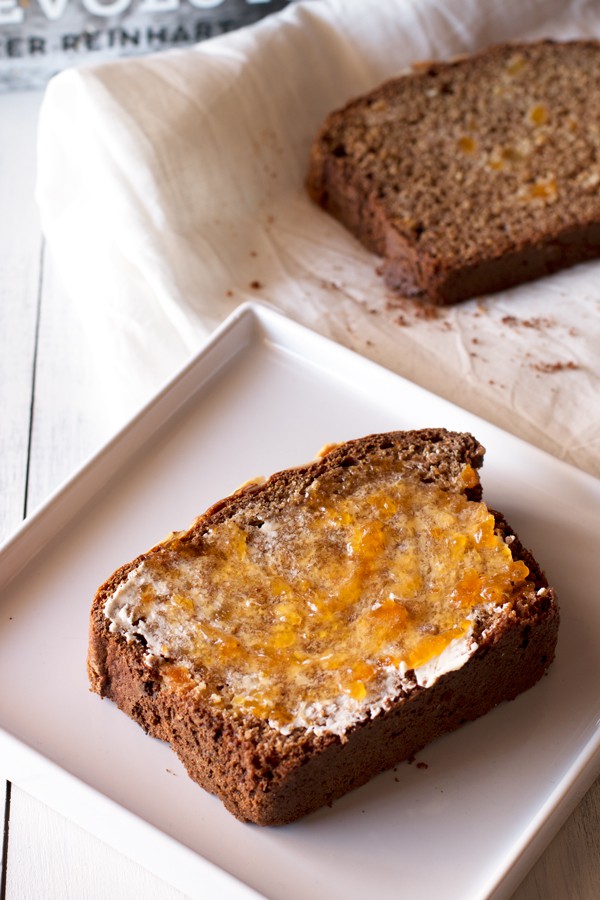 Breakfast has never tasted so good.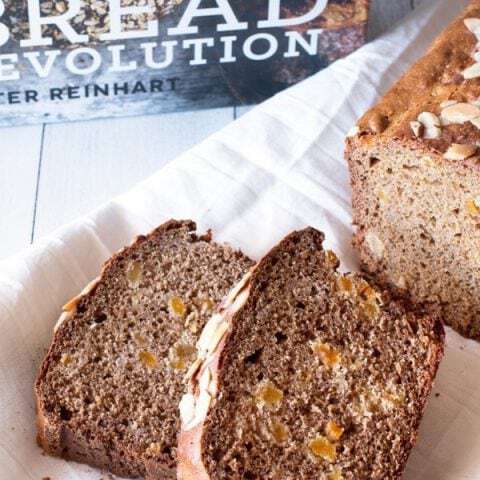 Apricot Almond Sprouted Wheat/Spelt Quick Bread
Recipe from Bread Revolution by Peter Reinhart.
Ingredients
3 cups + 3 Tbsp (or 3 cups + 6 Tbsp) sprouted wheat flour (sprouted spelt flour)
1 tsp salt
2 1/2 tsp baking soda
2 cups buttermilk
3 eggs, slightly beaten
6 Tbsp honey
1/4 cup unsalted butter, melted
1 Tbsp almond extract
1 tsp vanilla extract
1/2 cup chopped dried apricots
1/2 cup sliced almonds
Instructions
Position a rack in the middle of the oven and preheat the oven to 350 degrees. Mist a 4 1/2 by 8-inch loaf pan with vegetable spray oil; alternatively, brush the pan with melted butter, then dust with sprouted flour. You can also bake this bread in an 8-inch or larger round cake pan. In that case, cut a round of parchment paper to fit into the bottom of the pan and then prepare the pan as above.
In the bowl of a stand mixer fitted with the paddle attachment, or in a large bowl, stir together flour, salt, and baking soda (on low speed if using a stand mixer). In a separate bowl, whisk together the buttermilk, eggs, honey, melted butter, almond extract, vanilla extract and dried apricots, then pour into the flour mixture. Mix or stir until the flour is hydrated and all the ingredients are well combined, about 1 minute. The result should be a thick, soupy batter. Transfer the batter to the prepared pan. Sprinkle the sliced almonds over the loaf.
Bake for 45 minutes, then rotate and bake for 30 to 45 minutes longer, until the top is golden brown and springy to the touch and a toothpick inserted in the center comes out clean. If the top is golden brown but the center seems doughy or too soft, tent the pan with aluminum foil, lower the temperature to 325 degrees, and continue baking until a toothpick comes out clean.
Let cool in the pan for at least 30 minutes. Run an icing spatula or something similar around the edges to separate the bread from pan, then transfer the bread to a wire rack. Let cool for at least 30 minutes longer before slicing and serving.