Beer Brined Turkey Breast with Bacon Gravy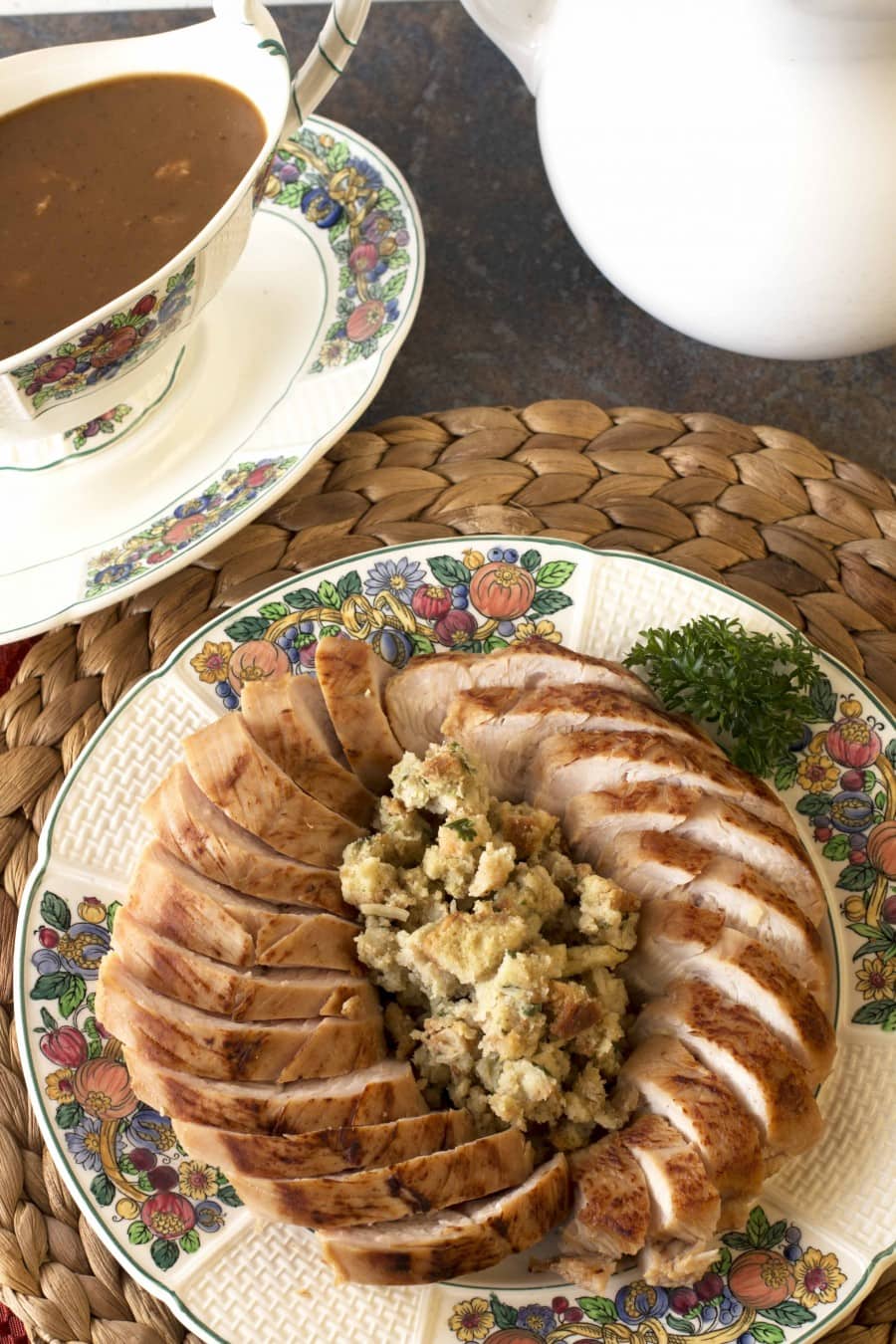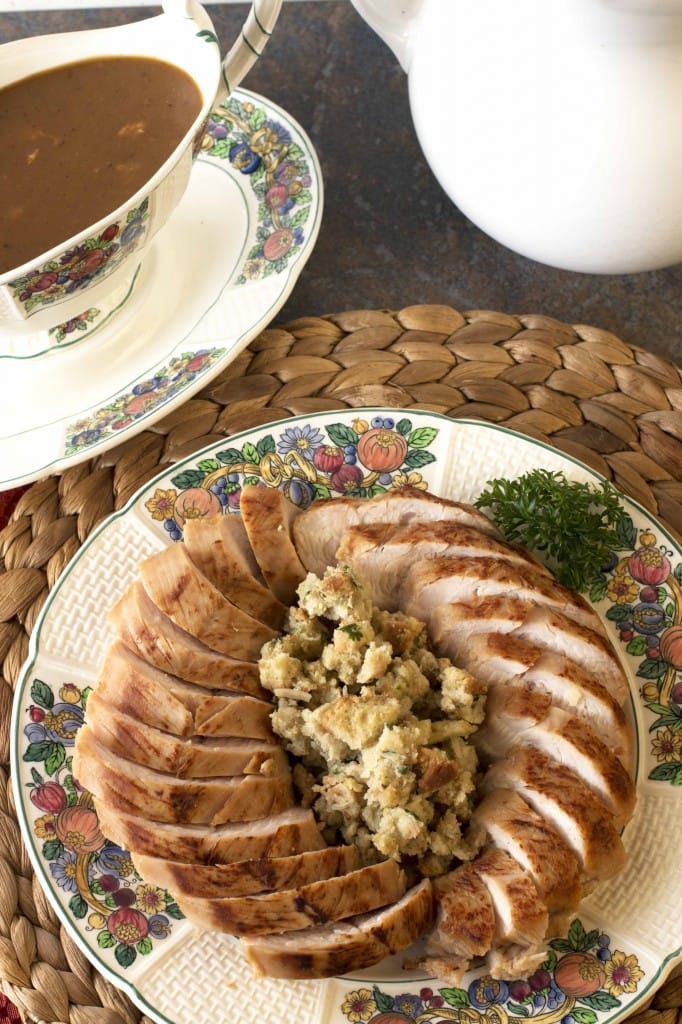 Welcome to the next course of our Blogsgiving Dinner Party!! I have to tell you, after brining my turkey in beer for the first time last Thanksgiving, I am only using a beer brine for the rest of my life.
I love how moist the turkey is, even after roasting it for hours! Now this year, instead of going with an entire turkey, I went with turkey breast tenderloins. Why? Well, first, it's take sooooo much less time and effort. Plus you can avoid that whole carving situation. I mean, I can carve up a chicken, but I have yet to find someone who can effortlessly carve a 20lb turkey. I don't know if it's the size or the fact that generally one out of 20 people in my family does it once a year.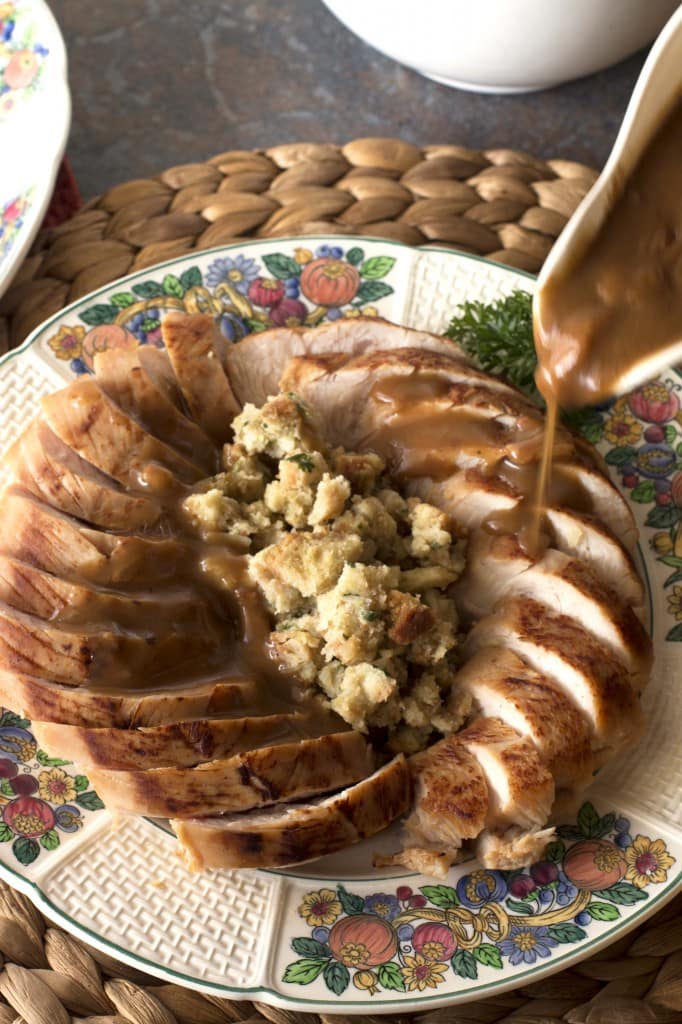 You all know I am all about taking the effort out of entertaining so these brined turkey breasts are heaven to me. Even more importantly, the flavor of the brine has less mass to sink into, making the turkey that much more flavorful and succulent.
Then of course, I put bacon in the gravy. Because why wouldn't you put bacon in your gravy?
There's no reason. Don't even try to pretend there is.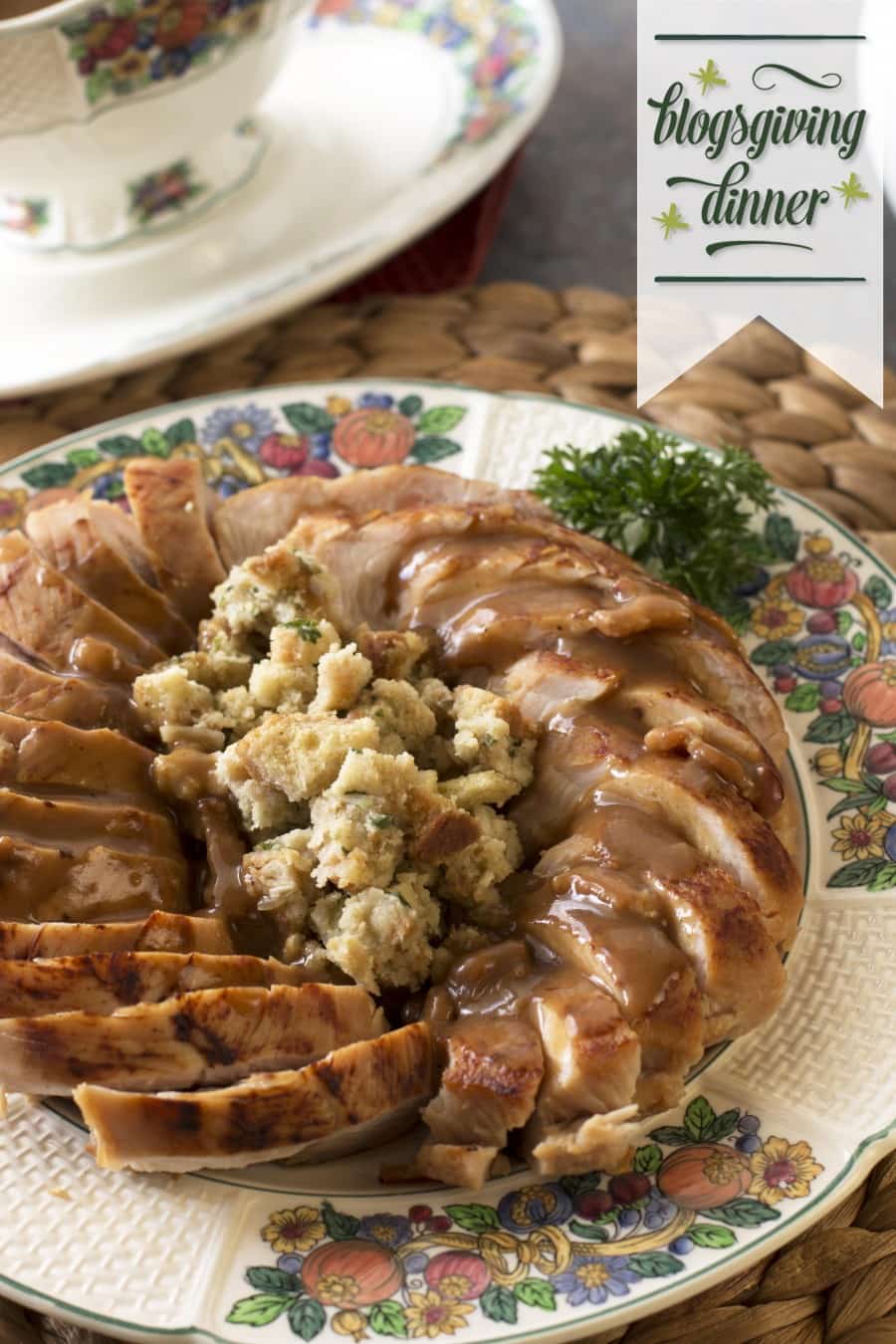 Thanksgiving simply can't come fast enough!!

As you may have read in Monday's post, this week I am co-hosting (with my dear BFF Susannah from Feast + West) an entire week of Thanksgiving collaboration between 20 incredibly talented food bloggers from all over the U.S. and Canada sharing over 50 recipes. Pretty amazing right? You're basically being handed the ultimate Thanksgiving dinner inspiration!
Just like a traditional progressive dinner, Monday we shared cocktails, hors d'oeuvres, and soups. TODAY? It's all about the main event – entrees, salads and side dishes! Are you ready for today's menu already? Here it is!!
Salads
Pomegranate & Goat Cheese Salad from Feast + West
Persimmon & Pear Salad from Wit Wisdom and Food
Roasted Butternut Squash & Gorgonzola Salad from Hello Little Home
Entrees
The Perfect Thanksgiving Turkey from My Cooking Spot
Roasted Turducken from The Speckled Palate
Herb Crusted Pork Tenderloin with Orange-Cranberry Reduction from Home at Six
Beer Brined Turkey with Bacon Gravy from Cake 'n' Knife
Smoked Mushroom Steaks with Herbed Bread Crumbs (Vegan) from Betty Becca
Side Dish
Turkey, Apple & Sweet Potato Pot Pies from Love & Flour
Creamy Pumpkin Apple Pasta from My Cooking Spot
Mushroom Spinach Farro from Think Fruitful
Bacon and Cornbread Stuffing from Chez CateyLou
Sweet Potato Crunch from I Cook. I Eat. It's Life.
Blue Cheese & Bacon Mashed Potatoes from A Savory Feast
Sausage Stuffing from the Wetherills Say I Do
Butternut Squash Grits from Homespun Seasonal Living
Wine
Thanksgiving Wine Pairings from Twin Stripe
Don't forget to check back on Friday for the final round of Blogsgiving Dinner recipes – after-dinner drinks, dessert, and leftovers so get excited!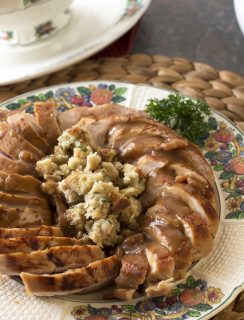 Beer Brined Turkey Breast with Bacon Gravy
Yield: Serves 4 to 6
Prep Time: 20 hours
Cook Time: 3 hours
Total Time: 23 hours
This moist turkey is brined in beer and spices delivering a ton of flavor after you roast it! Not to mention there's BACON gravy to go with it... You can easily double or triple this recipe for large gatherings!
Ingredients:
Turkey
4 boneless turkey breast tenderloins (approximately 4lbs to 6lbs total)
24 oz malt beer (I used Guinness)
3 bay leaves
2 tsp black peppercorns
1/4 cup brown sugar
1/4 cup salt
1 tsp onion powder
6 1/2 cups water
Gravy
1 Tbsp olive oil
1/4 lb bacon, chopped
1 shallot, chopped
1/3 cup flour
4 cups chicken stock
2 Tbsp butter
Salt and pepper
Directions:
In a large pot, add beer, bay leaves, peppercorns, brown sugar, salt, onion powder, and 1 1/2 cups of the water. Bring to a boil and remove from heat, stirring until the salt is dissolved. Add beer and 5 cups of cold water. Stir to combine. Allow the brine to cool completely.
Add the turkey breast tenderloins to a large enough bowl to contain both the meat and brine. Pour the brine over the turkey and cover the bowl with cling wrap. Place in the refrigerator and bring for at least 12-16 hours. The more the better!
When you are ready to cook your turkey, preheat oven to 325 degrees. Pour about one cup of the brine into a roasting pan. Add the turkey breast tenderloins and roast for approximately 1 3/4 to 2 hours until the thickest part of the meat reaches 165 degrees. Remove the turkey breast from the roasting pan to a plate and cover with foil to rest for 15 minutes.
While the turkey is resting, make the gravy! In a large saucepan, heat the olive oil over medium-high heat. Add the bacon and shallot, continue cooking until the bacon is crisp.
Sift in the flour and stir until combined. Slowly stir 1 cup of the chicken stock and cook until thickened, approximately 1 minute. Slowly add the remaining chicken stock and bring to a boil. Reduce to a simmer and continue to cook until the gravy is thick and reduced by one third, approximately 10-12 minutes. Remove from heat and stir in butter. Season with salt and pepper to taste. Keep warm.
Slice the turkey and serve immediately with gravy.