Please note this post contains affiliate links.
Whether you are heading to Miami to head out on a cruise or for a beach vacay, my 48 Hour Foodie Guide to Miami is your go-to for the ultimate in everything food and drink. Forget the over-the-top posh spots, this is the side of Miami you need to see.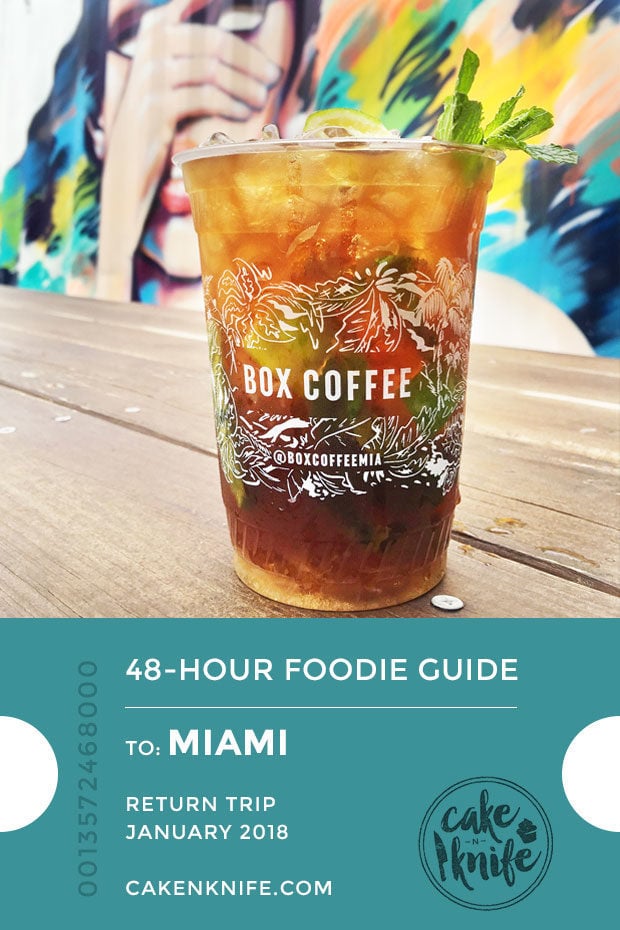 When it comes to Miami, there's a plethora of excitement waiting for you. As you walk down Ocean Drive there's music wafting through the air as you take in the ocean smell and wonder if you can survive the humidity for another block before darting into a shop that's pumping the AC (ok maybe that's just me?).
Honestly, I've always loved coming to Miami. Every since I turned 21, my mom and I would make a point to head to South Beach for a day whenever we went to visit my grandmother in Boca Ration.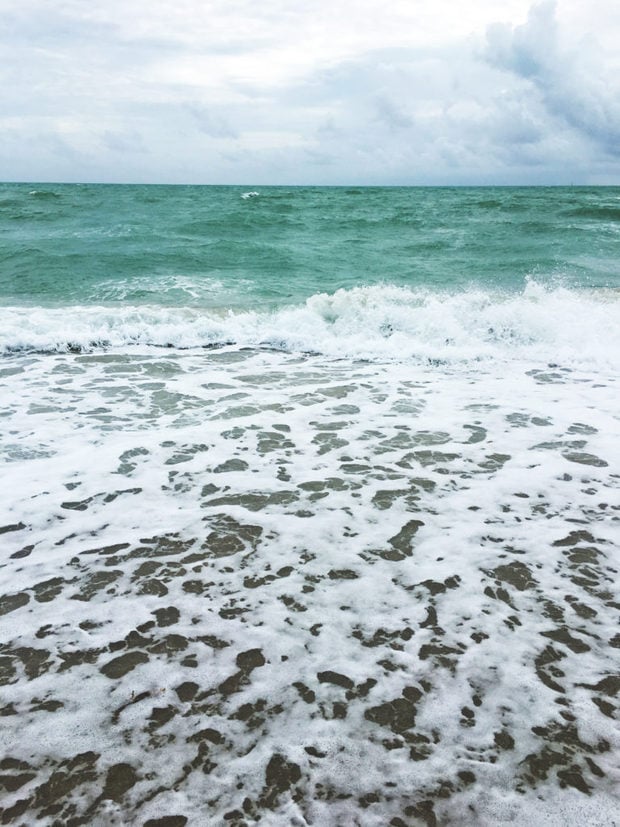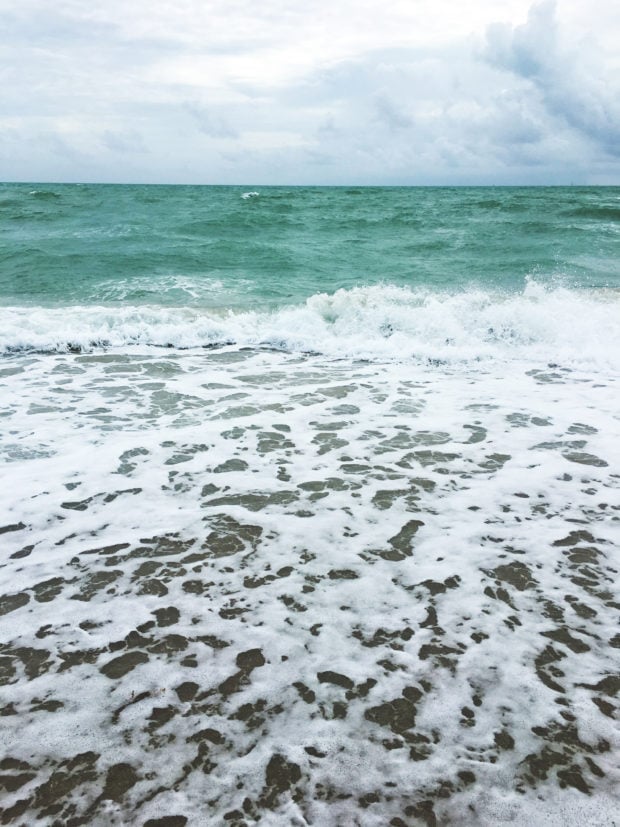 It was our little mini getaway for just us and it was always a BLAST. We'd head to the beach, walk with our toes in the water, indulge in delicious cocktails and food – some of my favorite beach memories are those.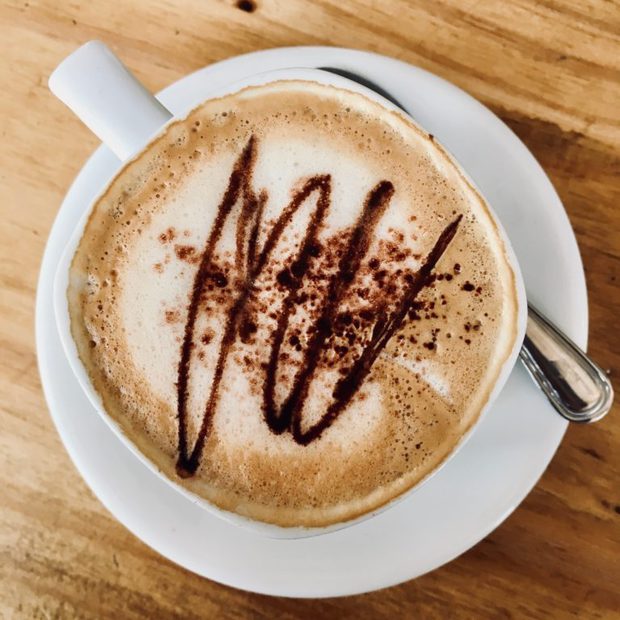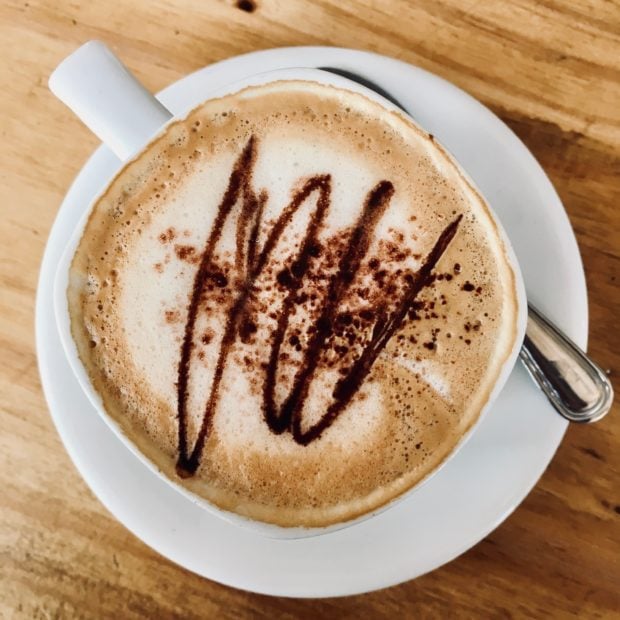 Before the Man and I headed out on our Carnival Vista cruise, I decided that I had to show Will around Miami – particularly South Beach. I wanted to share all those fun memories with him and make new ones! So we spent a whirlwind 48 hours in Miami and oh what delicious, fantastic and magical whirlwind it was.
There's something about Miami. It has it's own vibrancy and life that I honestly haven't been able to find anywhere else, and I'm not just talking about South Beach. I'm talking about South Beach AND Miami Beach AND (especially) Wynwood Arts District.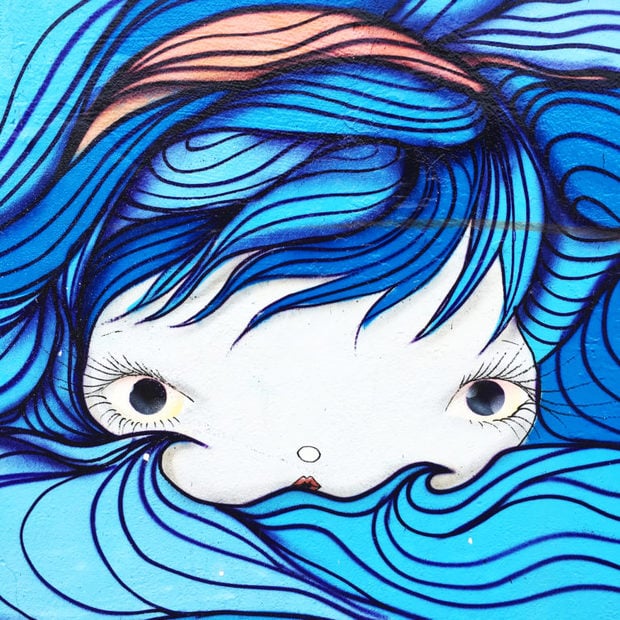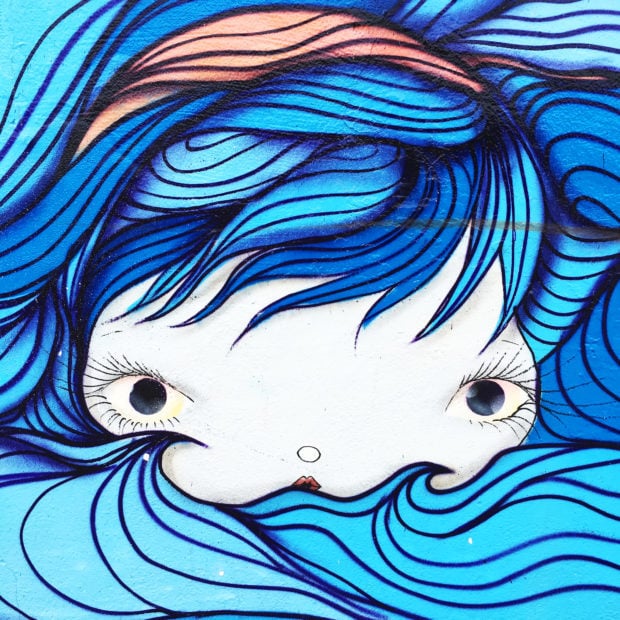 Even though our time was short, I feel like we really got a taste of all the best parts of Miami – through food, drink and adventurous exploration, of course. Below is my round up of my favorite spots to nosh, sip and savor the flavors of Miami, in some of the most unique ways. You won't believe the deliciousness that's waiting for you here…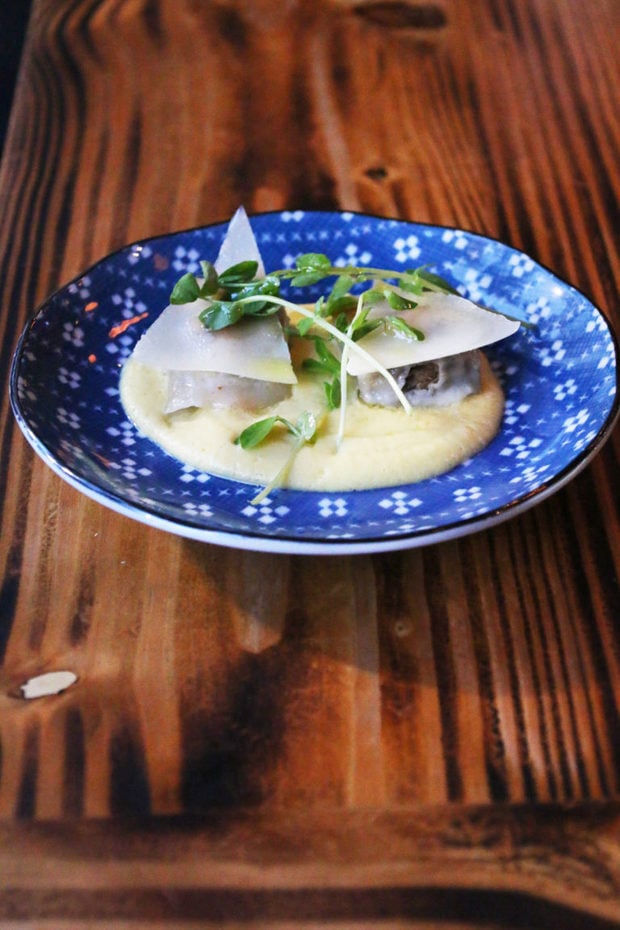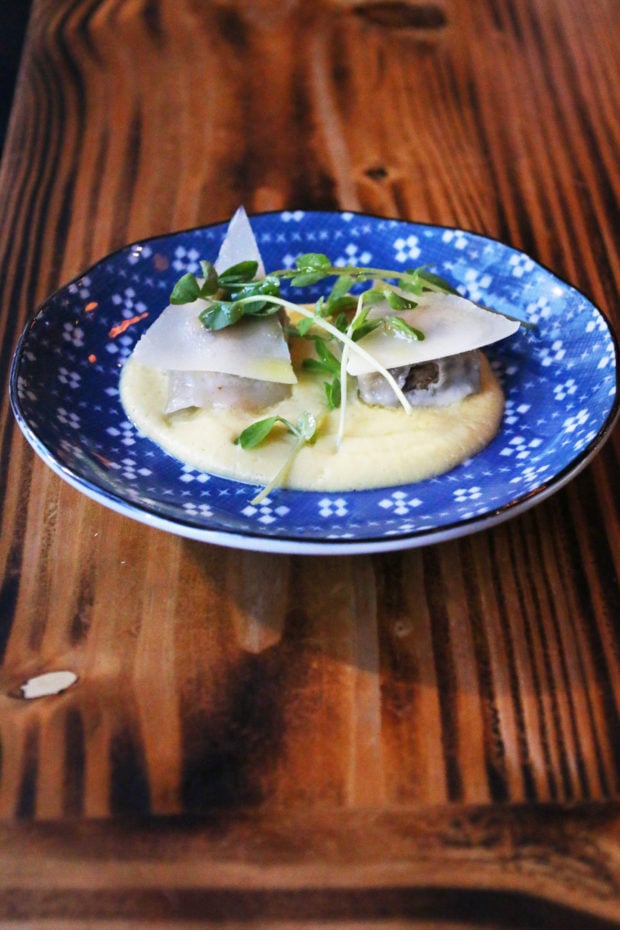 To Eat
Pubbelley Noodle Bar (Miami Beach)
Excellent inspiration from around the world with exciting combinations of flavors and a wide variety so every meal is an adventure every time you come in, seasonal and paying homage to the classics they started the place with, fun and away from the overpriced run of the mill spots on Ocean Drive. cool area of Miami beach that isn't so far away from the main drag but also still feels local and lively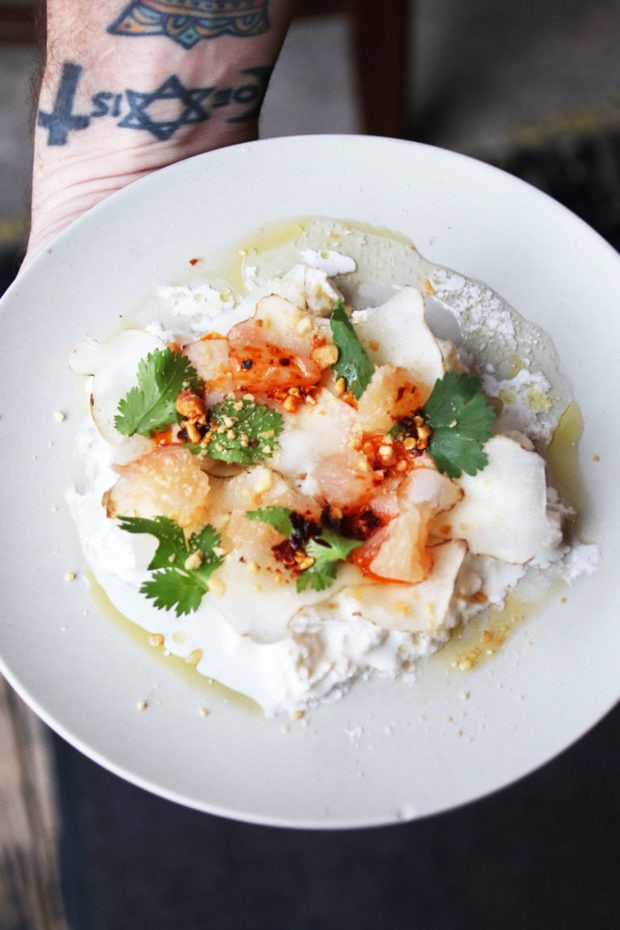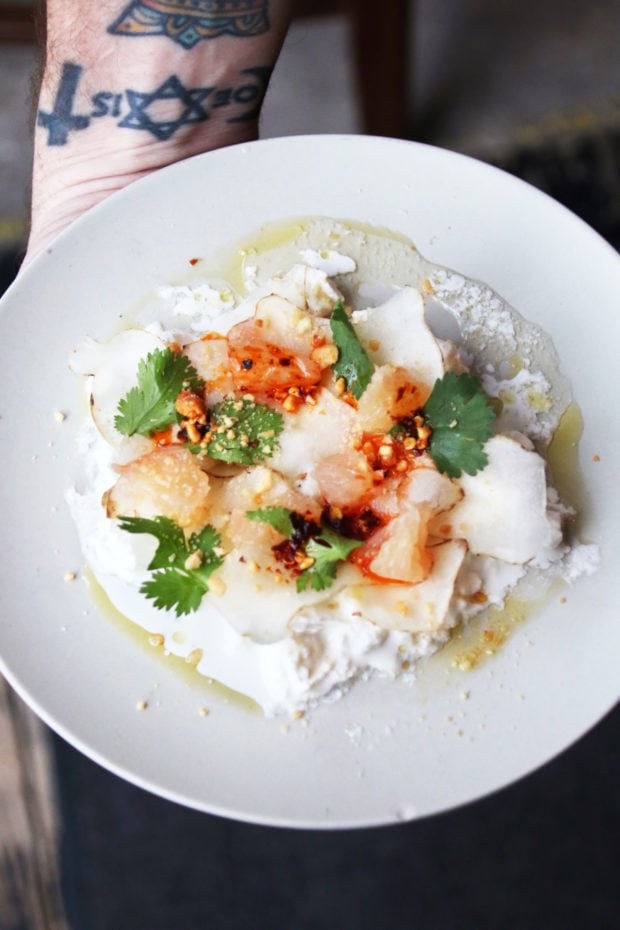 Recommended Sips: Kalamansito with sake prosecco Kalamansi lime (a twist on a mojito that's more acidic and playful on the palate, not too sweet), great selection of beers from Asia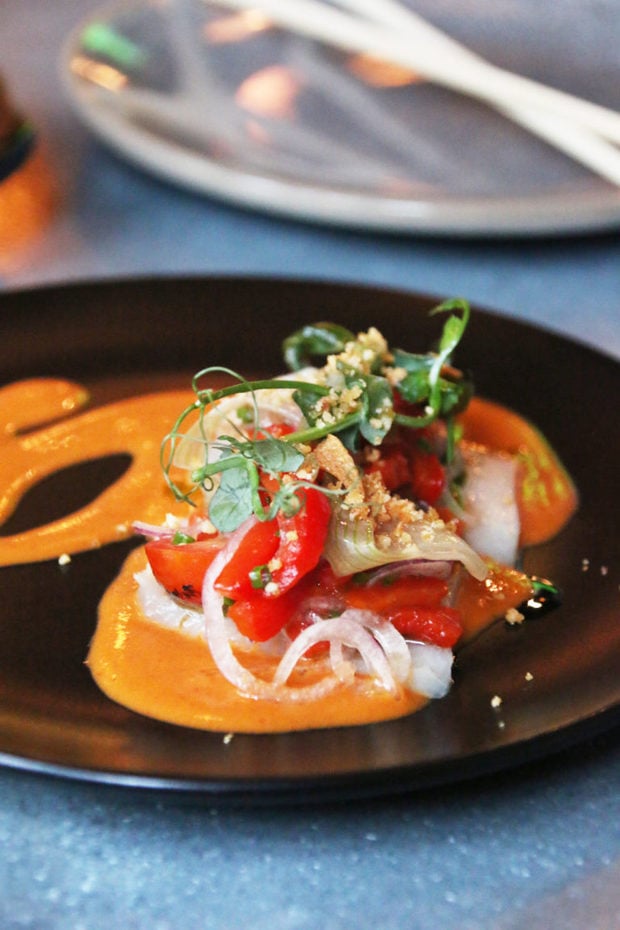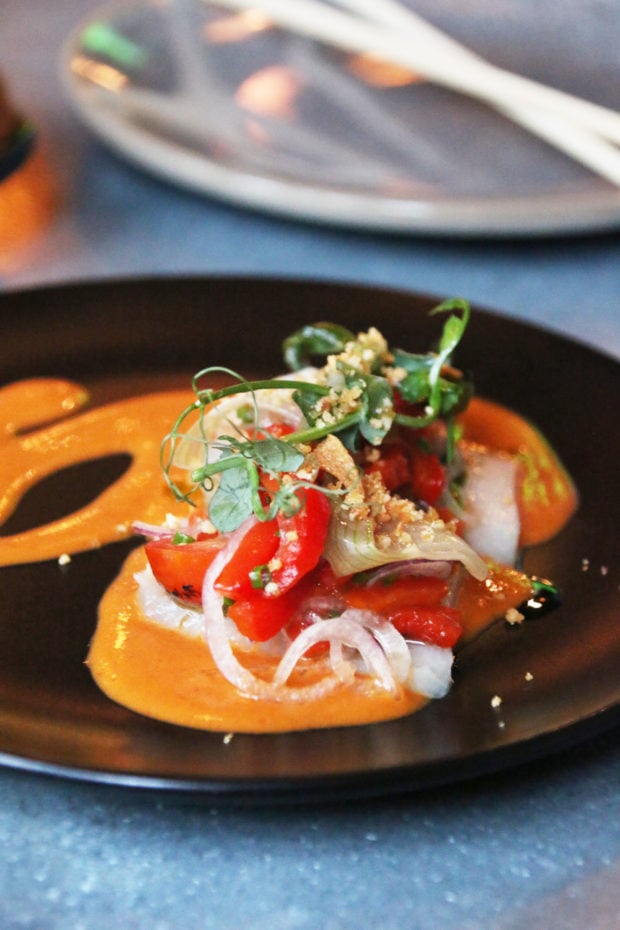 Recommended Bites: Dates avec Chorizo (goat cheese crema, spicy tomato and smoked bacon for smoky sweet and spicy lusciousness that simply melts in your mouth), Japanese Amberjack (yellowtail with a lemongrass reomenesco (OMG I need to try this on pasta) with caramelized hazelnuts with layers that linger, Pork Belly al Pastor dumplings with pineapple vinegar, queso fresco, and it's tender AF and really light but vibrant tiny packet of intense flavor, Short Rib Gyozas with corn puree truffle and it's insane – plays off the truffle for depth, Lechon Asado bao buns with sucking pig that is gorgeously tender, crispy chicharron for constract against that oh-so soft bun, Black Sesame Seed Ice Cream Mason Jar (a dessert that changes monthly with the seasons, this one had a dulce de leech mouse strawberry marmalade and matcha brûlée foam – playful and innovative foods with lots of flavors and textures)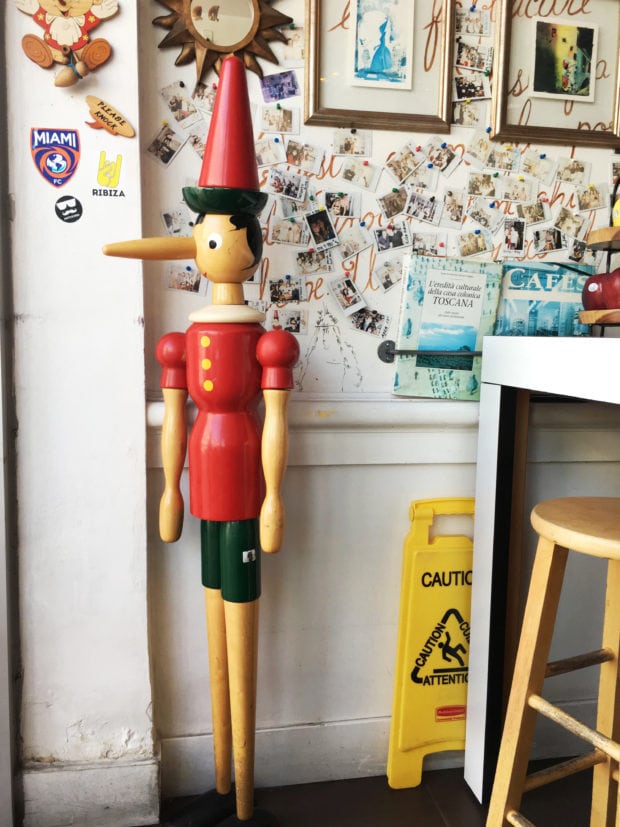 Pinocchio Italian Deli and Caffe (South Beach)
I found this place several years back on a trip to South Beach with my mom when we were visiting my grandmother in Boca Raton. It holds a special place in my heart. This tiny little spot is like stepping into a tiny cafe in Rome. Everyone speaks Italian (don't worry they speak English too), it's fast-paced while being casual and laid back, not to mention packed with lots of character. They also make the BEST cappuccino and their chocolate croissant is my heaven.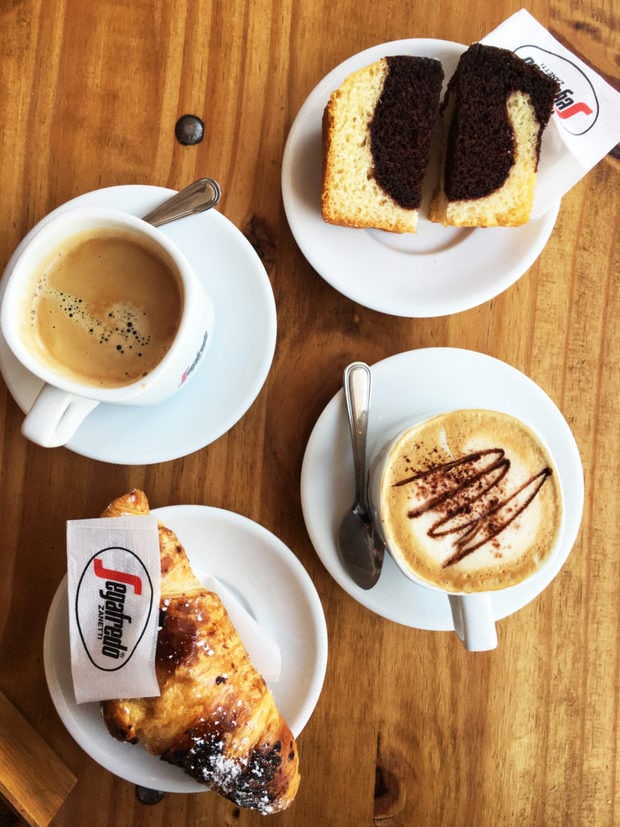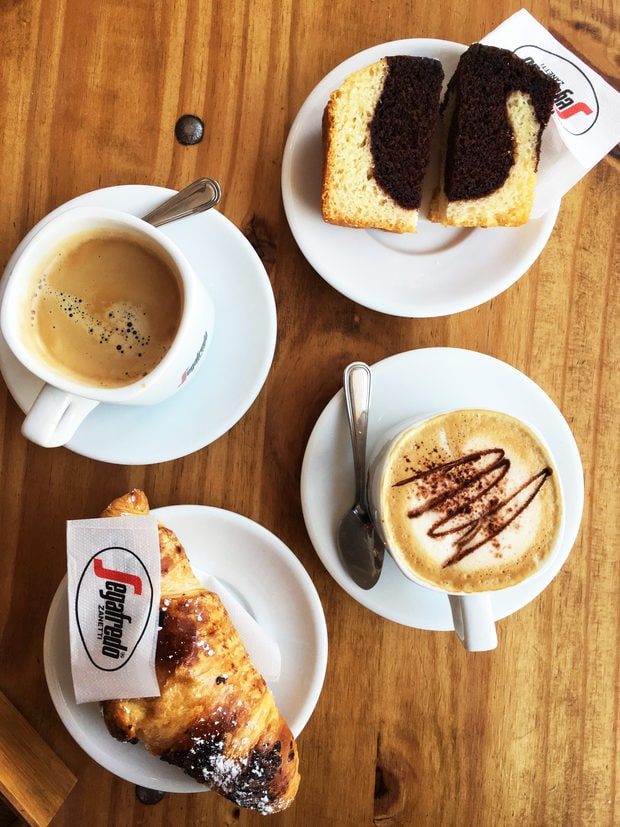 Bird and Bone (Miami Beach)
In the Confidante Miami Beach hotel in the back, North of the overwhelming drag of people outside restaurants trying to urge you to come inside, this little gem is tucked away. The romantic setting both inside and out of the patio alone is the perfect setting for a date. Right by the beach for a lovely stroll afterwards, whether you are going for dinner or brunch. THIS IS COMFORT (ask for Laura because she was the BEST)!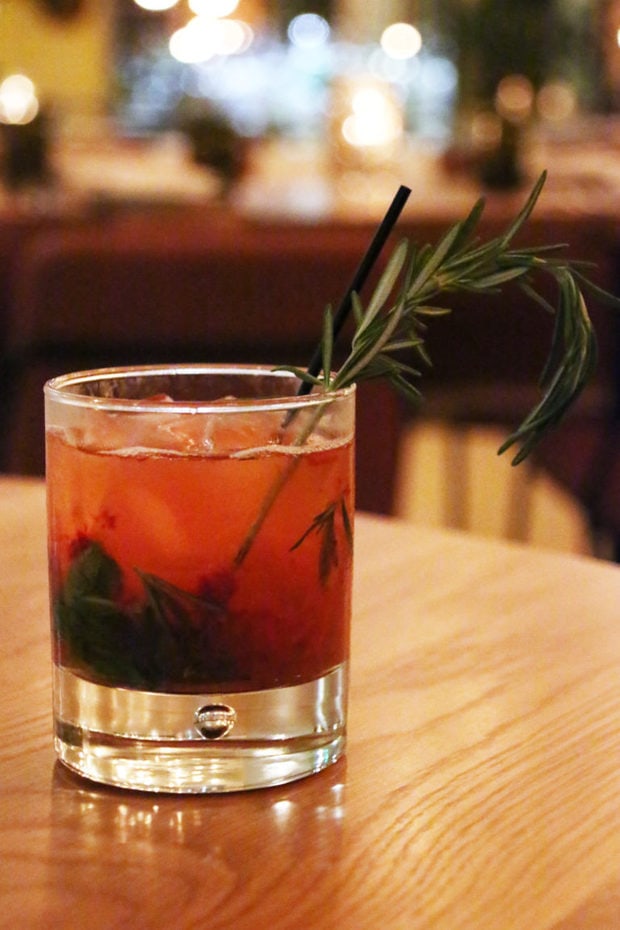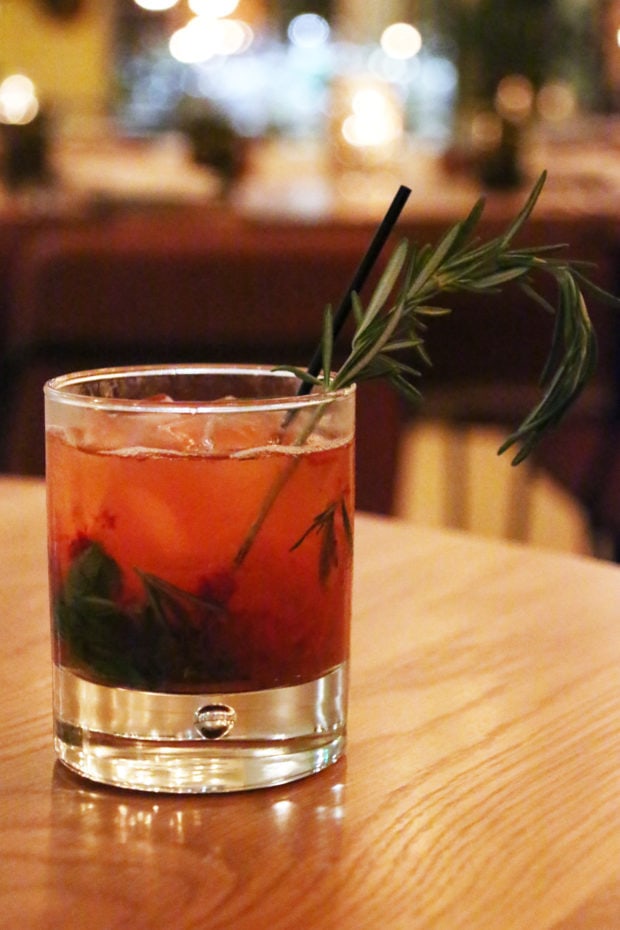 Recommended Sips: Strawberry Smash made with mint and rosemary strawberry and bourbon bright with a strong whiskey bite to give it depth, Smoke Show made with mezcal for a smokiness aperol for bitter blood orange and a stunning balance, also be sure to check out their delicious wine list and the amazing pairings they recommend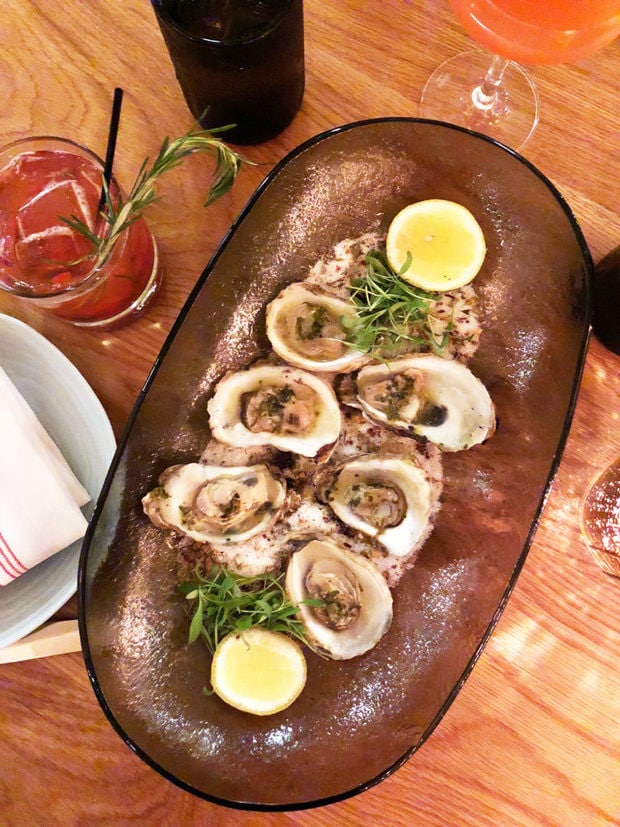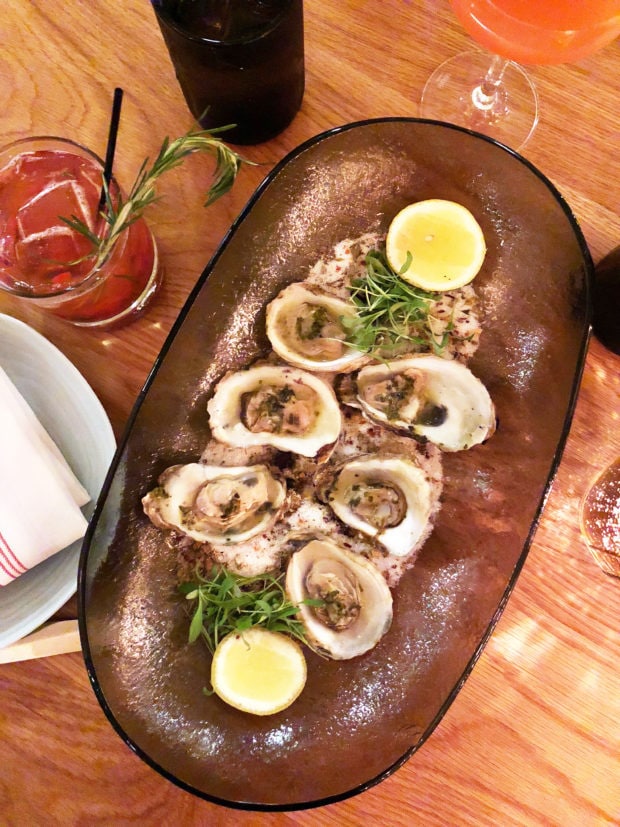 Recommended Bites: Grilled Oysters that were velvety served with lemon scallion celery leaves and oh-so buttery, melt in yo mouth slap yo mama good, Hot Chicken is a must whether you are there for brunch or dinner because it's juicy crispy with a little hint of sweetness and a rich hearty bread, not to mention amazing housemade pickles, hot spiced fries to go along with it that's nice and hot to pair with chicken, Roasted Pork Shank with blackberry BBQ sauce (OMG!!!) with a little heat slightly sweet tart and falls apart so you don't even need a knife, the roasted vegetables with carrots that made me want to be a vegetarian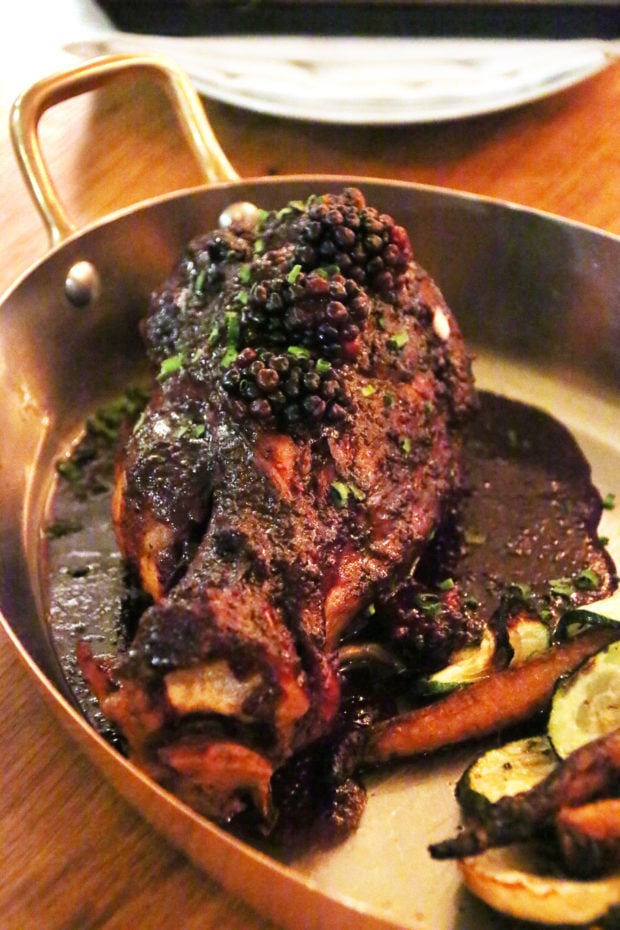 Bacon Bitch (South Beach)
When you are hungover and starving or perhaps it's the middle of the night, you head to Bacon Bitch for a snack and some espresso. Yes the name is odd but dang I was surprised by how much I LOVED their flavors. After having a disappointing Cubano experience the day before, I was delighted to find the satisfaction I was looking for here. Though not a traditional cubano, their version in a croissant with pickled red onion and other delicious toppings such as chicharrones, I was bursting with happiness and a full belly once I stuffed the entire thing into my face. The filling portion for each is 100% worth the $$ better than any of those so-called cheap breakfasts or brunches you get on Ocean Drive that are a TOTAL rip off!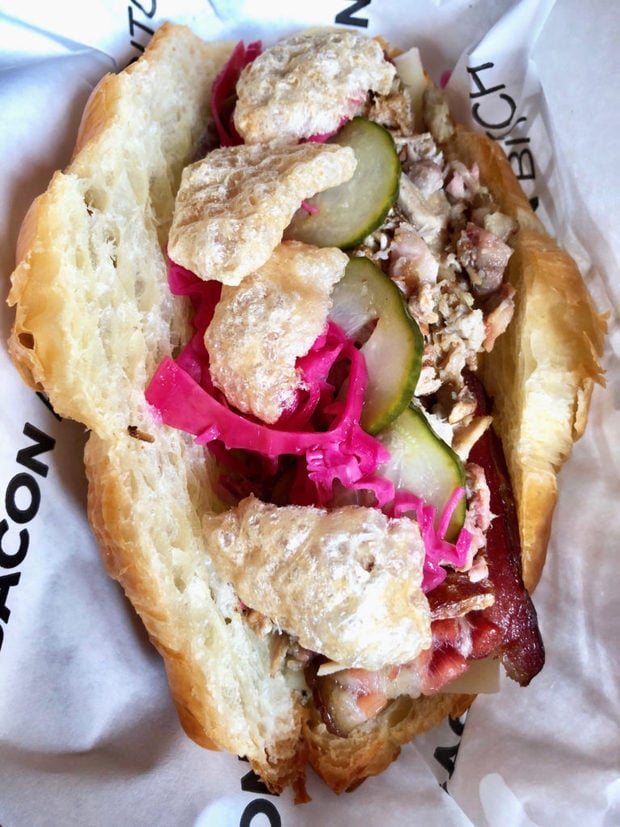 Recommended Sips: Espresso, obviously. Nothing else. Just this.
Recommended Bites: Cuban Bitch was just WOW the mojo pork was insane with chicharrones pickled red onion pickles and bacon that melted in my mouth, Philly Bitch with dreamy spicy nacho cheese and juicy steak with onions and mushrooms
Bodega Taqueria y Tequila (South Beach)
Go to Ricky's for cocktails and then head to the super secret speakeasy style joint next door for dinner… And you are in for the night of your life. Happy hour is every day in the back (if you can find it… hint, think about looking for the bathroom that isn't one… and from 6-8pm with $2 tacos $3 chips and guacamole and $6 specialty cocktails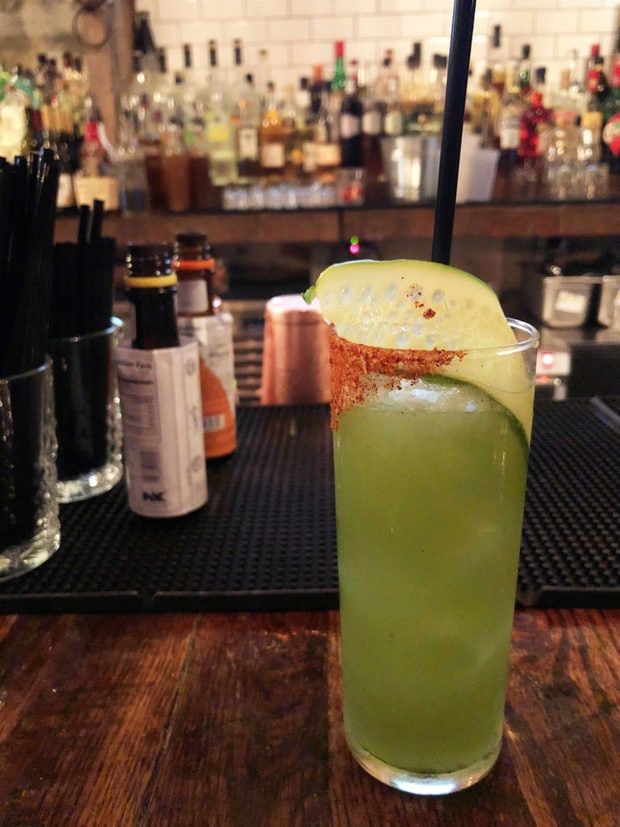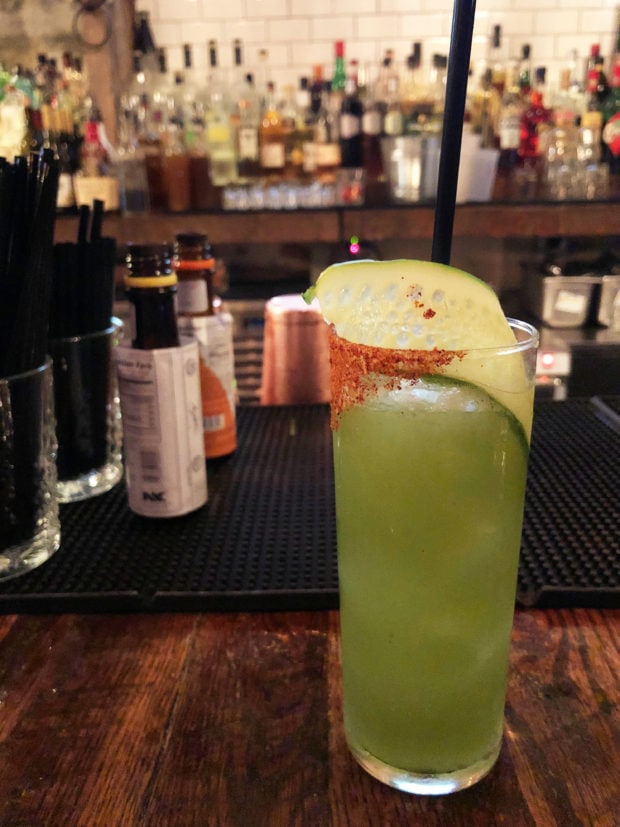 Recommended Sips: Every cocktail we tried was incredible, but the Maduro Old Fashioned was a fantastic combo of tequila and rum and maduro with spiced chocolate bitters as well as the Pico Picante with tequila mezcal cucumber cilantro jalapeño and lime
Recommended Bites: ALL THE TACOS (and the chips and guacamole), especially the Steak Chimichurri, the Al Pastor, the Barbacoa, and we were surprised by the Texas BBQ Carnitas!
Le Chic French Bakery (South Beach)
Want a fast, easy and cheap spot with delicious sandwiches/pastries and a snack? Head to this unassuming spot and trust me when I say, there's more to this place that you may think. Don't let the plain appearance fool you, this little hole in the wall spot had some really amazing sandwiches and were so moderately priced for South Beach. Great for when you are burning up from humidity!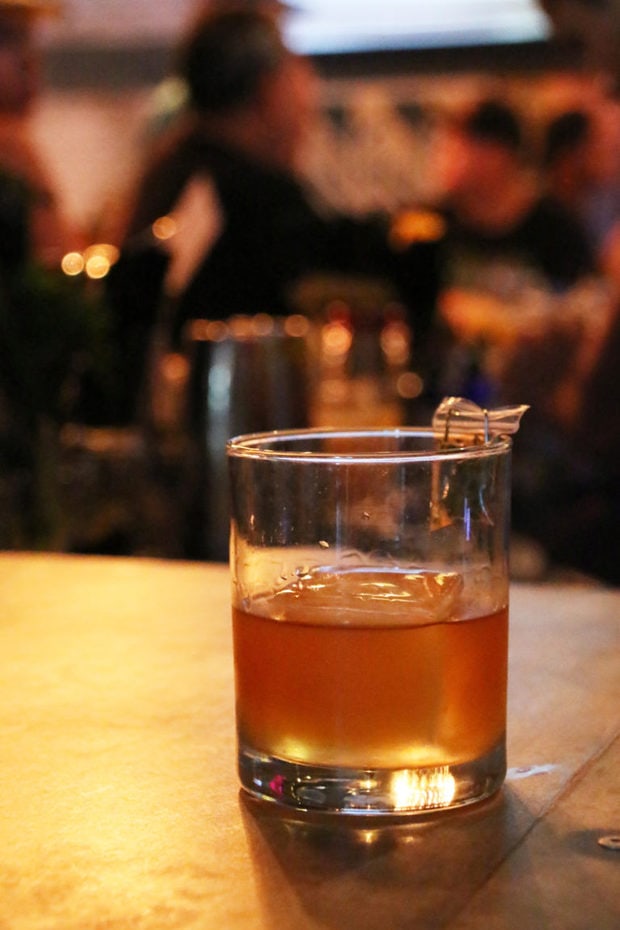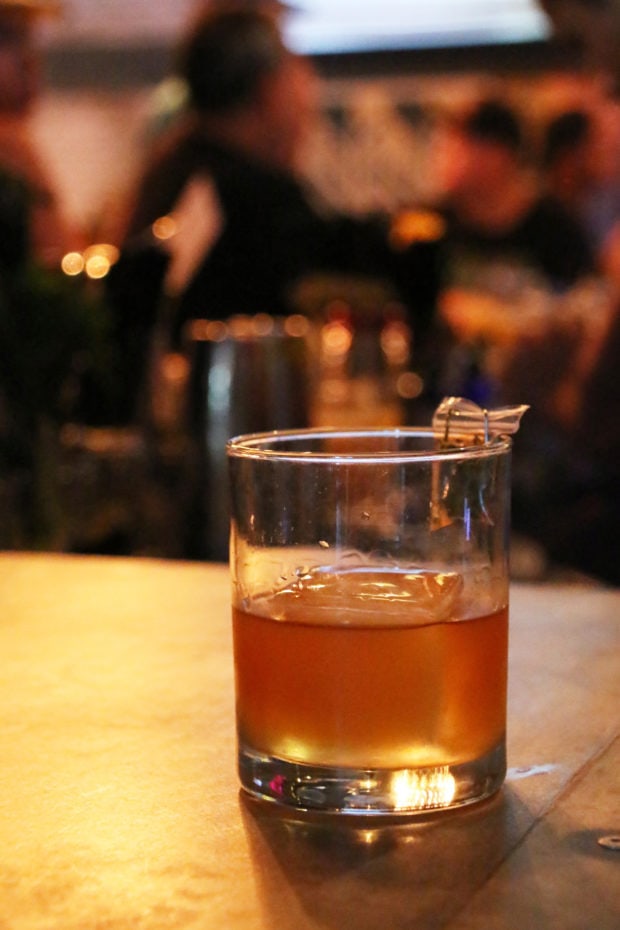 To Drink
Ricky's South Beach (South Beach)
Ricky's South Beach is THE hot spot that I would go to time and time again. It's sassy, fun, playful and full of FUN. It's not one of those posh, over-the-top, wayyyy too expensive spots. This place is down to earth with a sassy flair that will make you never want to leave! I was seriously floored by the atmosphere and the incredible quality of the cocktail they had. From elevated flavor bombs to humorous plays on classics, you can kick back here with live music and stay for hours and hours and hours!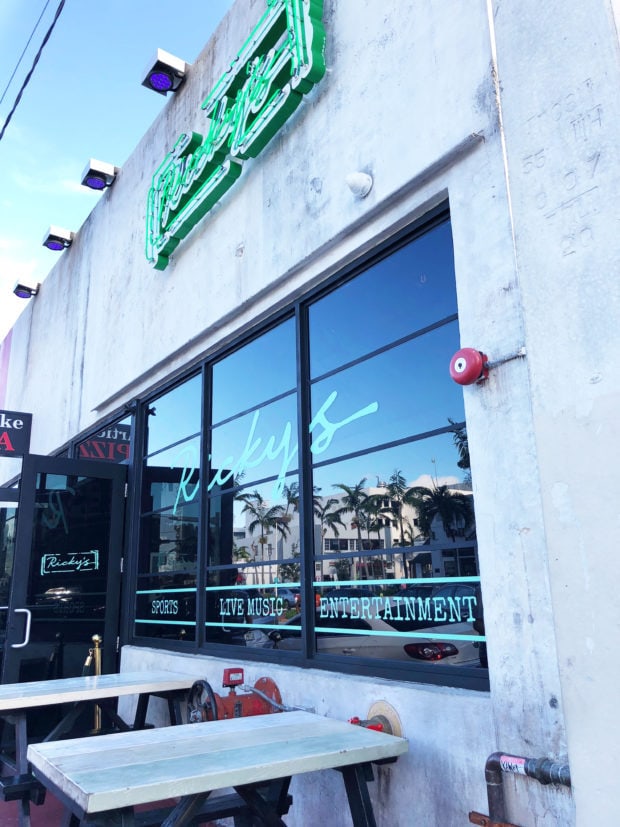 Recommended Sips: Dime Bag (strong, whiskey forward drink with CBD – for REAL – infused booze which I haven't even seen in CO!), Walking Dead (an amazing balance in what I was expecting to be a really sweet drink! Perfect tartness and the tiki bitters were a surprising addition that I am going to make an addition to my home bar), Ricky's Wingspan (a really innovative tropical Red Bull, prickly pear and passionfruit drink with a little sweetness – aka a delicious adult version of those terrible energy drink concoctions we made in college…), and Pineapple Express Reloaded (a mezcal cocktail by the incredible Dre – definitely hit up the bar and ask him to make you things! He's the bomb dot COM)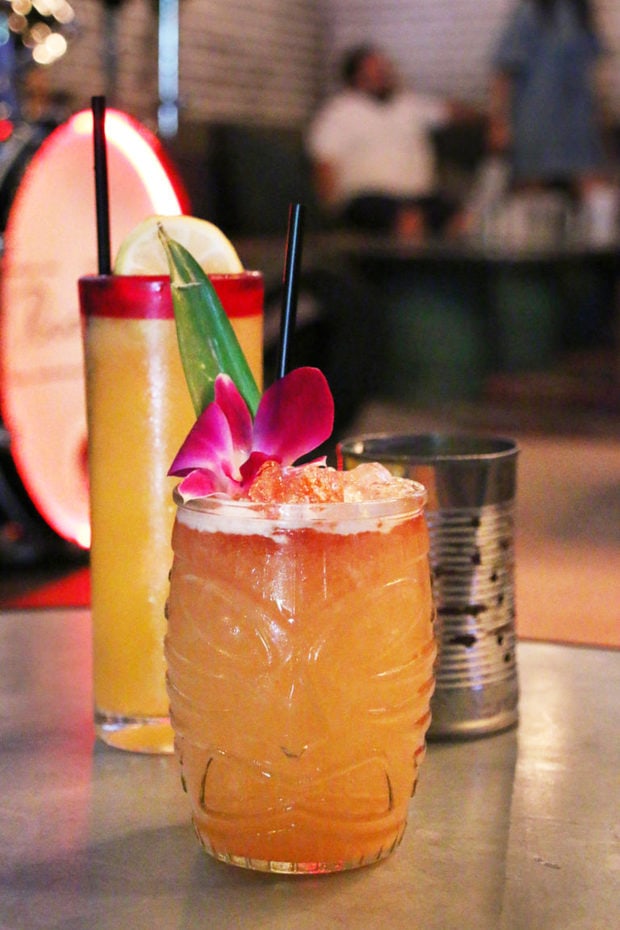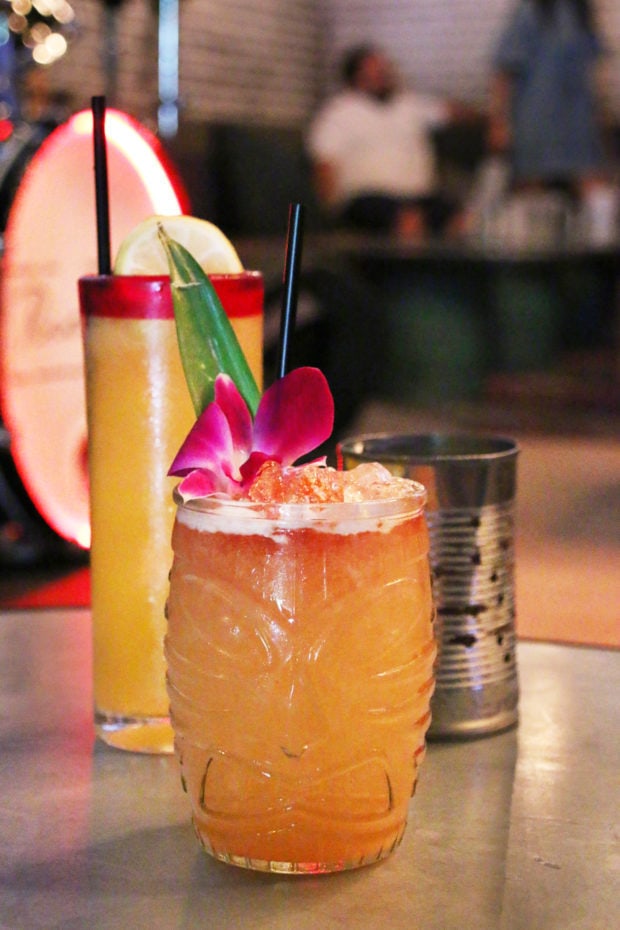 Mister Block Cafe (Wynwood)
While you are wandering around Wynwood Arts District, stop off in this cute spot for some snacks or pastries, with lots of coffee options and incredible freshly squeezed orange juice. My personal recommendation is grabbing a freshly squeezed orange juice and a small bottle of champagne to make your very own mimosa to cool off with after you hit the Wynwood Walls (more on that below!).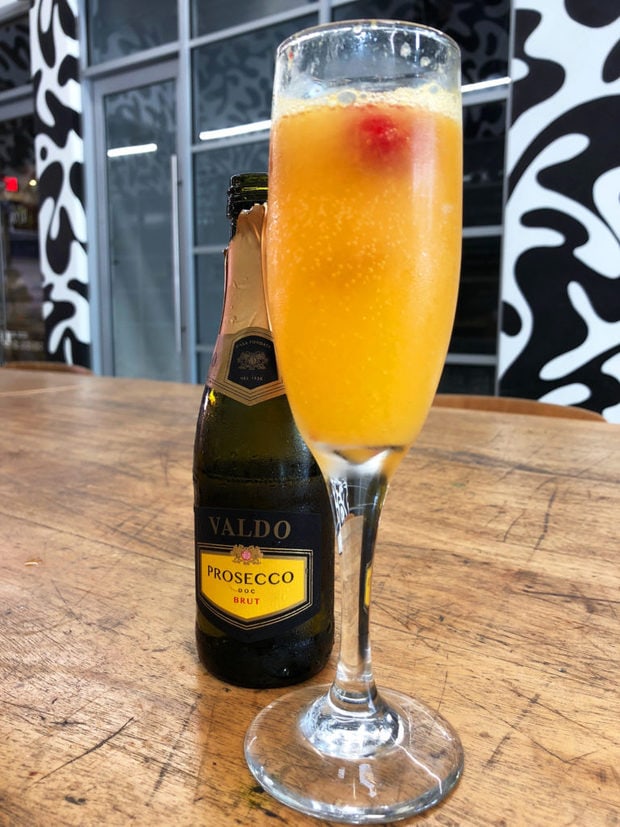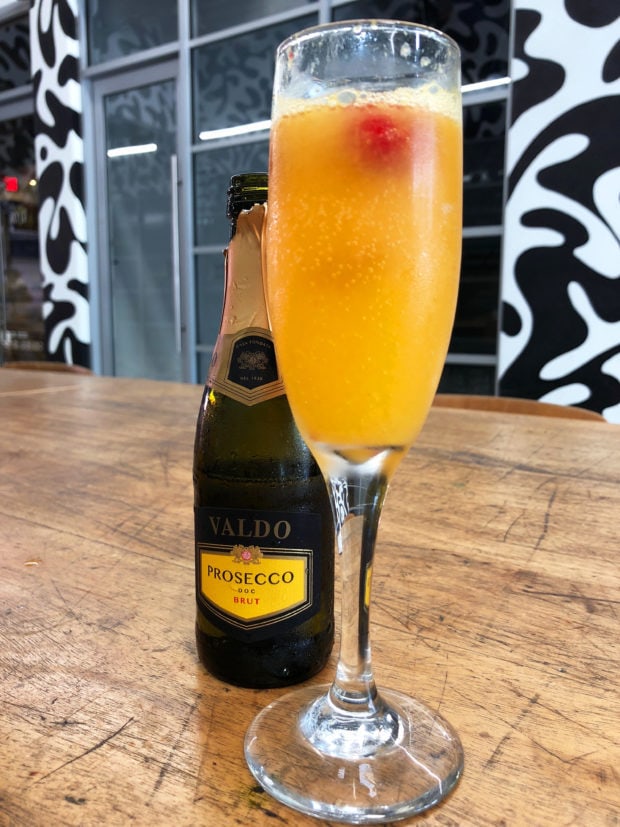 Box Cold Brew Bar (Wynwood)
Best coffee in Wynwood? Hands down Box Cold Brew Bar. Their mocktail versions of cocktails made with cold brew coffee are INSANE. With a colorful mural and innovative approaches to cold brew coffee drinks, you will fall in love with their specialities after the first sip.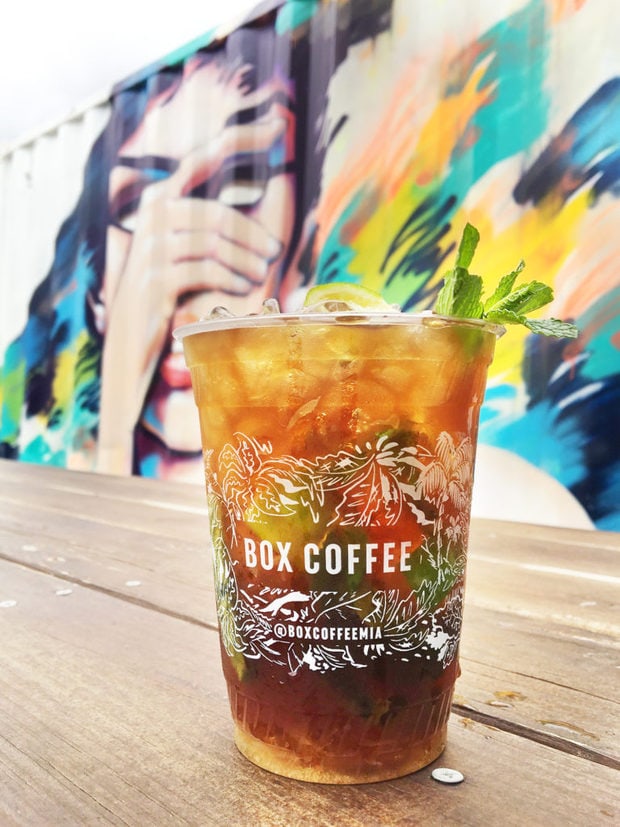 Recommended Sips: Ginger Mule (with cold brew, lime, ginger beer and surprisingly rosemary), Mojito Mint (with cold brew, sugar, lime and an abundance of fresh mint)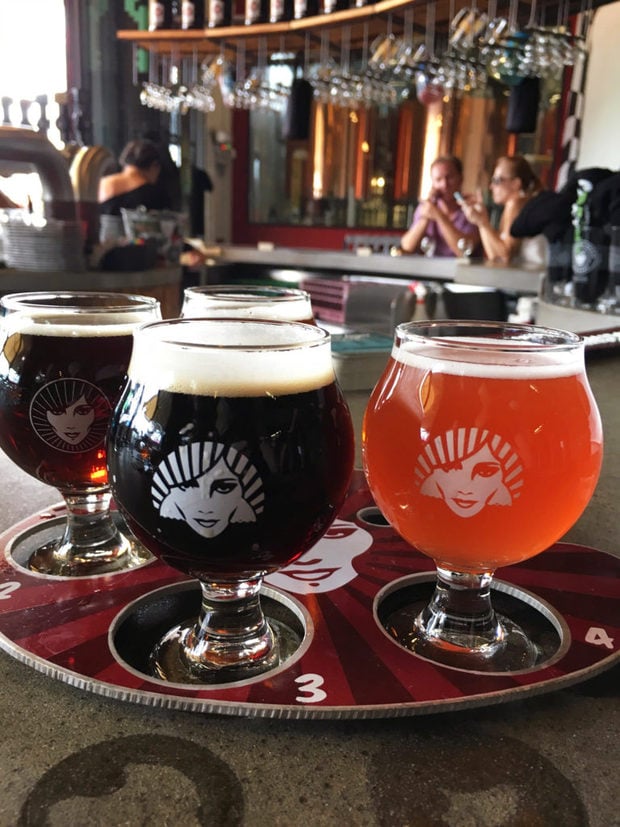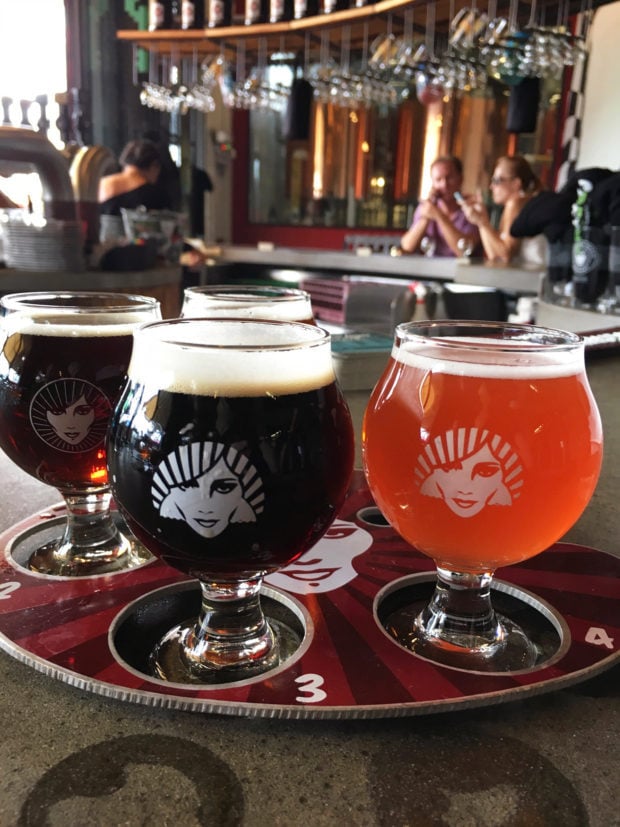 Concrete Beach Brewery (Wynwood)
Beer is everywhere in Miami but while we were in Wynwood we really liked the laid back feel of Concrete Beach Brewery, not to mention the quality of beer. We grabbed a couple flights and saddled up to the bar with the cool breeze coming in from the fans. Honestly, we kinda felt like we were back in good ol' CO for a moment (it really reminded me of the inside of Declaration's tap room!).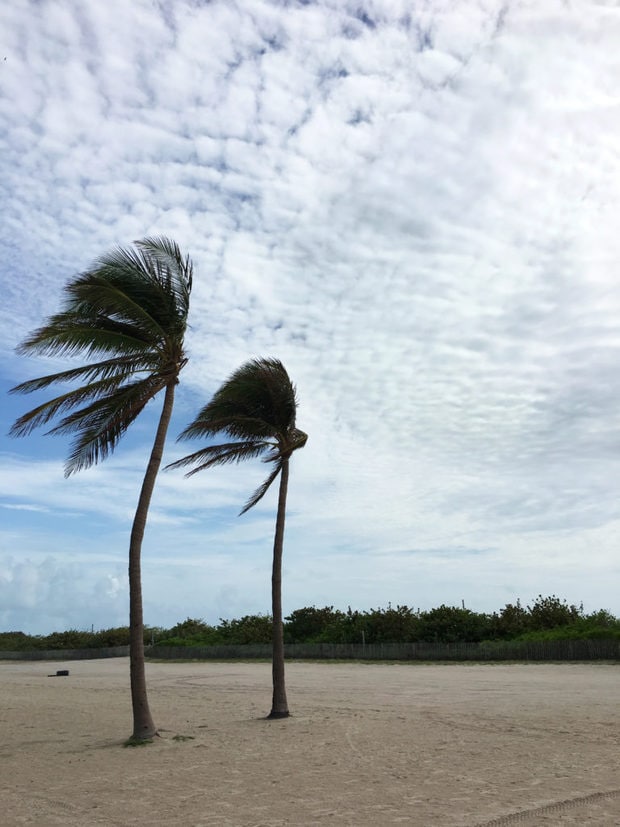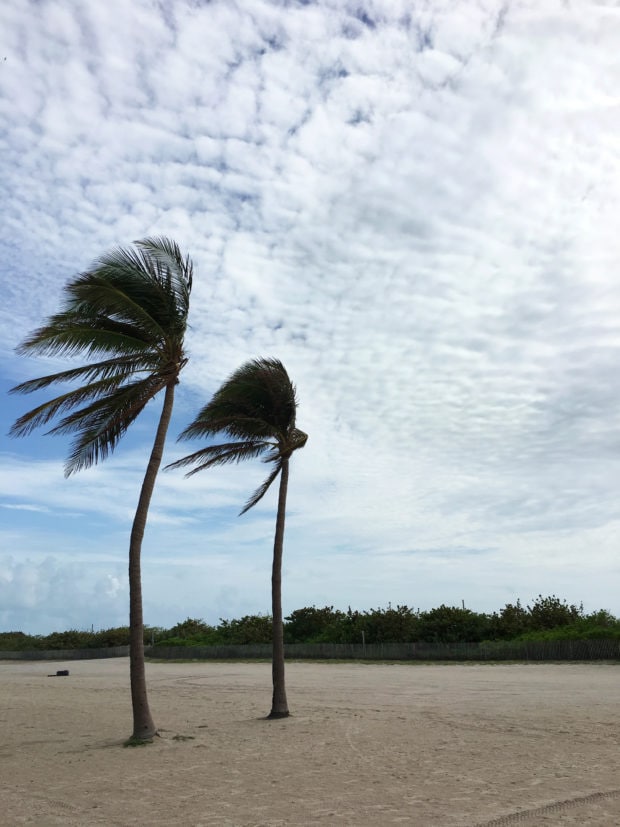 To Do
South Beach Wandering
Lay on the beach, jump into the clear ocean waters, admire the art deco along Ocean Drive… Explore shops and restaurants along Collins Ave and the pedestrian walking mall. There's nothing like exploring the various nooks and crannies!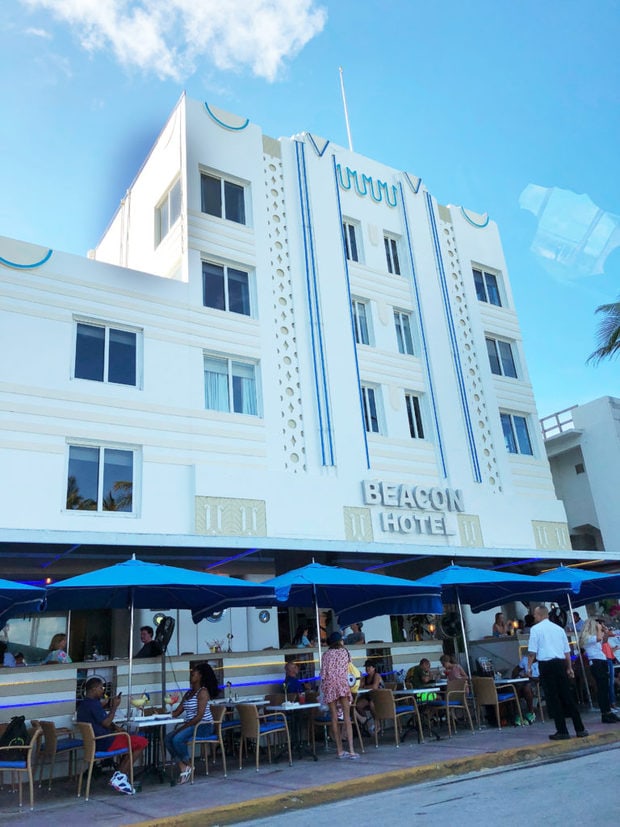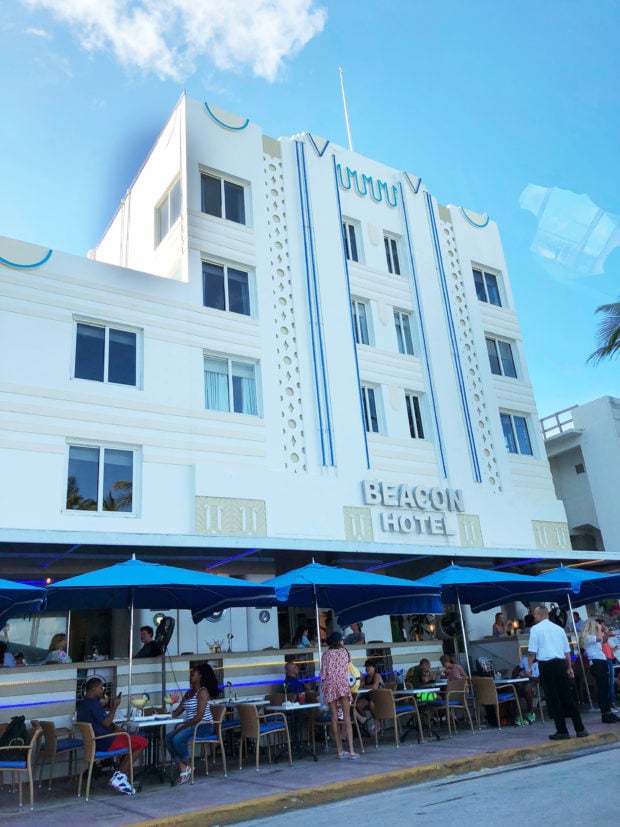 See the Stores in Wynwood
I LOVED the stores in the Wynwood Arts District the most in Miami. Definitely make sure to stop by the Frangipani Store and all the other stores in the area with funky cool vibes!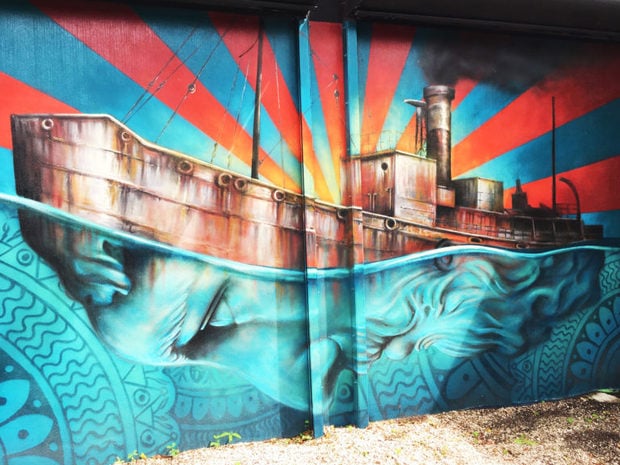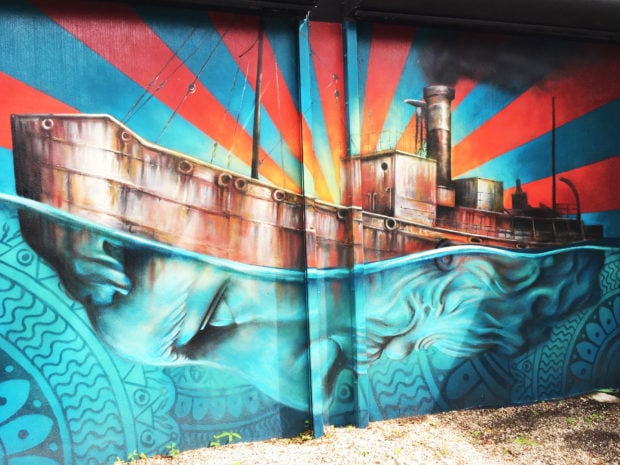 This was the most exciting experience for me in Wynwood. Everywhere you look there is street art ALL OVER the walls, so the area is already magnificent by that right. But then you get to the Wynwood Walls and this takes it to a whole new level with artists from all around the world coming to paint their masterpieces. It truly was unique and a beautiful expression of color and emotion everywhere you look.